British army investigators found evidence that discarded ammunition in Kenya, which maimed a 13 year-old boy, almost certainly came from a UK training exercise.
The information was not shared with the boy's father, who accepted a reduced "no liability" payout from Britain's defence ministry on the basis there was an equal chance the explosive was dropped by Kenyan troops.
His son, Lisoka Lesasuyan, lost both his arms and an eye in 2015 when he picked up a mortar fuze on an area of communal land used for live firing practice by UK and Kenyan soldiers.
The fuze had failed to ignite on impact and instead separated from the mortar. It lay dormant until handled by Lesasuyan.
The ranges, which are not fenced off from the public, are known by the army to be "frequented by farmers, villagers and nomadic tribes-people."
Following Lesasuyan's accident, army staff advised introducing fliers to warn local people of the dangers of unexploded ordnance.
An internal British military investigation into the accident, completed in 2016 and reported here for the first time, found:
57 fuzes had fallen off mortars fired in Kenya, creating a potential hazard to civilians;

Soldiers on range clearance duties were not confident at dealing with unexploded ammunition;

UK exercises in Kenya created enough military debris to fill 13 shipping containers;

An audit process for tracking unexploded ammo was "unsafe".
Declassified can also reveal the type of mortar fuze involved in Lesasuyan's accident was withdrawn from British army service in 2019 because it contained a poisonous explosive substance.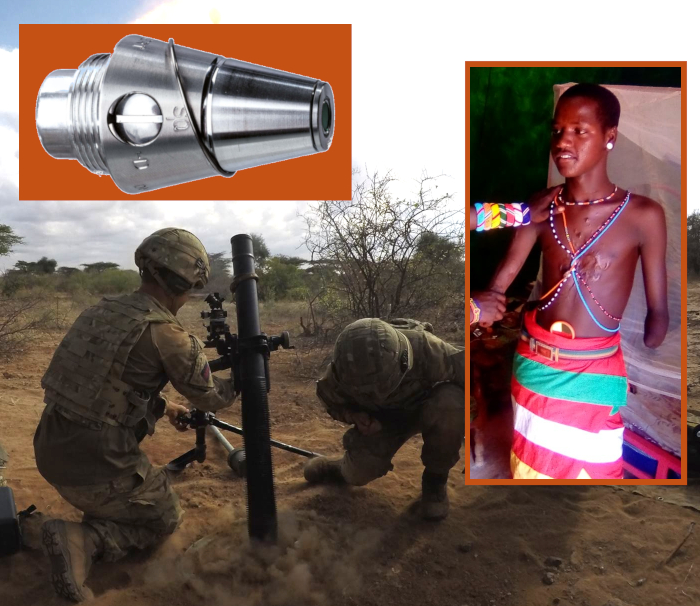 Paint on the fuze
Papers stored at the army's base in Kenya from the years leading up to Lesasuyan's incident have mostly been destroyed, as we reported yesterday.
However, electronic files from immediately after the accident were preserved and have been obtained by Declassified through a freedom of information request.
They call into question a Ministry of Defence (MOD) decision to award only £67,000 in compensation to Lesasuyan's father without accepting liability.
The payout was made on the assumption there was a 50% chance the boy's injuries were caused by UK-fired explosives.
One British army official in Kenya commented: "I remember it as a good news story as we helped him even though it was as likely to be KMOD UXO [Kenyan military unexploded ordnance]."
Although the accident occurred at Ol Kanjao, a live firing range used by both UK and African troops, Declassified has seen strong indications the ammunition was more likely to have come from British rather than Kenyan stockpiles.
An internal army investigation, which spent just 11 minutes interviewing Lesasuyan while he was in a "distressed" state, found he was injured by an L127 A4 fuze.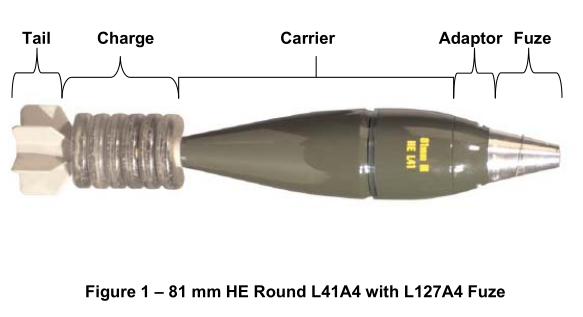 The device was used by the British Army on "81mm and 60mm HE [high explosive] and WP [white phosphorus] mortar rounds".
When Declassified first made enquiries about the incident, a British army official claimed to "recall" that both Kenyan and UK troops had fired 81mm mortar rounds in that area.
However, two Royal Military Police reports noted that Kenyan troops only used this type of fuze on 60mm mortars.
The distinction is important because army investigators said the fuze which wounded Lesasuyan "was partially painted green".
They said: "This is consistent with it being the fuze off an 81mm HE mortar round as the adaptor is painted green, and adaptors are not needed with this fuze on 60mm mortar ammunition."
The implication of these internal reports – which were not disclosed to the Lesasuyan family before they accepted a no-liability settlement – is that the fuze could only have come from British troops.
It will add to concerns that Lesasuyan, who requires prosthetics for the rest of his life, should have received more compensation from the British army.
Kelvin Kubai, a Kenyan lawyer representing victims of UK military activities, said the revelations were "shuddering".
He told Declassified: "The UK and Kenyan armies often rely on blame games at the expense of innocent third parties who may never be able to prove the source of the ordnance that maimed them.
"But this new evidence definitely points to the fuze originating from the British army. I believe it opens a gateway for this case and potentially others like it."
Askari Pineapple
Safety concerns about the ammunition that maimed Lesasuyan were also not shared with his family after the incident.
The army probe found "in certain unknown circumstances with 81mm ammunition…the fuze becomes detached from the carrier on impact with the ground."
Post-exercise reports (PXRs) from Askari Pineapple – the army's name for its range clearance sweeps in Kenya – recorded that "at least thirteen fuzes separated from 81mm ammunition" were located in the four years leading up to and including Lesasuyan's injury.
The original PXRs have been destroyed but summaries of some of their findings were mentioned in an accident report, which was preserved.
In that document, an army investigator noted "it is possible some, if not all, of the thirteen 81mm fuzes" were of the L127 A4 variety that maimed Lesasuyan. "This brings into question whether this fuze should be considered safe equipment," they said.
The fuze is manufactured by a Franco-German arms company, Junghans Defence.
It was ultimately removed from service within the British army at the end of 2019, "following advice from the Defence Ordnance Safety Group due to the presence of Tetryl within the fuzes."
Tetryl is a poisonous explosive substance.
A further 44 fuzes of unknown variety were found abandoned in the same area of Kenya, bringing the total to 57. 
Blinds
UK exercises in Kenya created enough military debris to fill 13 shipping containers that were awaiting shipment back to Britain in early 2016.
Sweeps between 2012-2015 found types of ammunition that "have not been in service with the British Army for some years."
Investigators warned that unexploded ordnance "resulting from ammunition fired many years ago is still being found."
The debris included "blinds" – a military term for munitions that have been fired and remain "unexploded either by malfunction or design, or for any other cause."
Army investigators found "anecdotal evidence" that the majority of soldiers responsible for removing unexploded ammunition "appear to have neither the currency, or in many cases the confidence, to safely destroy blinds or misfires and this inhibits the timely destruction of blinds during the post training range clearance."
They also said the "audit trail for blinds" at the British base in Kenya was "considered unsafe practice" as there was "evidently ample scope for a blind to be missed".
The MOD's Defence Accident Investigation Branch recommended: "Until further notice ensure all troops tasked on Exercise Askari Pineapple photograph all blind fuzes" to help identify defects.
All instances of blind L127 A4 fuzes becoming separated from their mortars were supposed to be notified to the military's Munitions Incident Defect Cell.
However when Declassified asked to see such safety reports from before and after Lesasuyan's injury, the MOD said they either did not exist or had been destroyed.
These included logs of which units had conducted live firing in the accident area and what munitions they had used.
An MOD spokesperson said: "The incident was investigated by the Kenyan Police Service, assisted by the Kenyan Defence Forces and British Army Training Unit Kenya."
They claimed: "The investigation was unable to conclusively establish whether the unexploded ammunition that caused the child's injuries was of Kenyan or British origin."
The spokesperson added: "An agreed settlement was reached without admission of liability and a payment made to the family of the injured child in June 2018. The British High Commission and the MOD extend their deepest sympathy to the family."
Junghans Defence did not respond to a request for comment.