Crossing the bridge over the River Ibar in Mitrovica is a journey through one of Europe's sharpest contrasts and possibly its next bloody faultline. To the south of the river is a modern city which, much like the rest of Kosovo, proudly displays its allegiance to the country's ethnic Albanian majority.
Eagle flags and tributes to the Kosovo Liberation Army (KLA), which drove out Serbian soldiers with Tony Blair's help in 1999, are ubiquitous. A gleaming Turkish-funded mosque dominates the main square and on the day I visited last month most shops were shut, as people celebrated the Islamic festival of Eid Al Adha at home with their families.
The few stores that were open only accepted euros, Kosovo's official currency although it is yet to join the EU – and is unrecognised as a country by five members of the block. The bridge is wide enough for traffic, but I ditched my hire car upon advice its Kosovo number plates could arouse hostility once over the river.
The only vehicles on the bridge were a pair of Land Rovers belonging to the Carabinieri, Italy's militarised police squad. I waltzed past a concrete barricade where the bored officers didn't ask for any identification.
After all, this is not an international border and certainly not an Italian one. The Carabinieri are only here to keep the peace between two sides of Kosovo's most divided city, whose inhabitants seldom mix.
North Mitrovica
Quite how different it is in north Mitrovica took me aback. A swath of red, blue and white Serbian flags fluttered all the way up the high street. Graffiti professed solidarity with fellow Slavs, stressing: "Kosovo is Serbia, Crimea is Russia".
A cafe gave me change in Serbian dinars. Shops handed out carrier bags with cyrillic logos. There is no sign left of the Ibri mosque which stood at the foot of the bridge until it was torched in 1999.
At the top of the hill, an imposing statue of Prince Lazar points poignantly back over the river. Unveiled in 2016, it commemorates the Serb royal's defeat by Ottoman troops at the Battle of Kosovo in 1389 – an event which still determines the dividing line in this troubled land.
I was here on the anniversary – 28 June – which is marked as Serbian national day, known as Vidovdan. Some had anticipated that it would kick off this year. An off-duty Kosovar policeman (and KLA veteran) told me he'd seen intelligence that Serbs in north Mitrovica were poised to declare succession from Kosovo.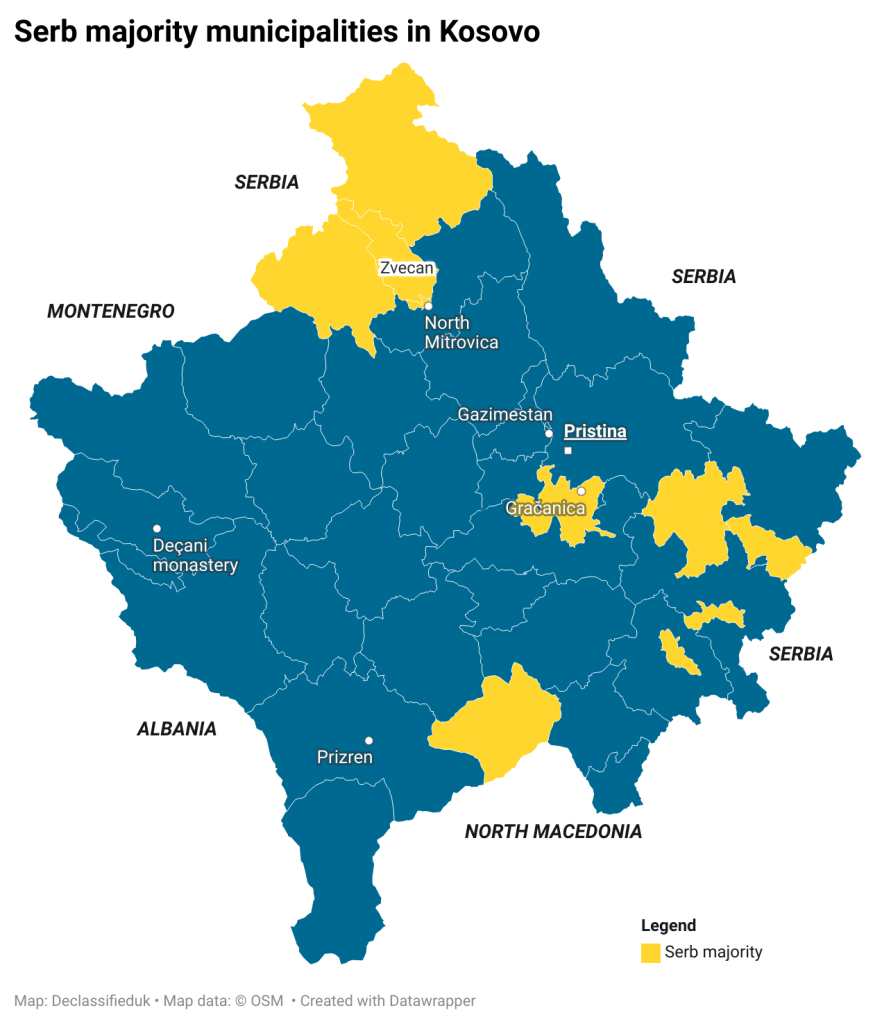 The northern part of the country has four Serb majority municipalities that border Serbia and could feasibly be reabsorbed by Belgrade, which had moved troops towards the frontier. Tensions were high and three Kosovo policemen had been arrested for allegedly trespassing into Serbia.
That night a grenade was supposedly thrown at police vehicles in Mitrovica, putting authorities on heightened alert. Kosovo's usually anarchic roads were flooded with traffic cops at every roundabout between the capital Pristina and Mitrovica, making drivers obey the speed limit – a real rarity.
Some even indicated.
And yet the day passed without any declarations of independence. North Mitrovica felt calm. A waiter said he was more concerned about the economy than another war. I looked for a taxi rank, taking in the number plates. Mostly Serbian, or none at all. Pristina's ongoing attempts to enforce Kosovar licence plates, an old source of tension, were clearly being ignored.
Road to Zvecan
A battered cab took me further north through a wooded landscape reminiscent of the Welsh valleys. Lining the bottom of the gully was a giant heap of coal with a 300 metre high chimney soaring out of the ground.
The Trepca mines once made Mitrovica an important industrial city within Yugoslavia. It's now a shadow of its former self and the factories strewn with rust. My phone dropped Kosovo's mobile network and within five minutes I reached Zvecan, where the father of tennis star Novak Djokovic was born.
"These developments have left many Kosovars feeling bewildered and betrayed"
In May this small town saw violent protests as Serbs tried to stop armed Kosovar police escorting a newly elected mayor into Zvecan's municipal office. Serbs had boycotted the local elections, leaving the door open for an ethnic Albanian candidate to win with just 114 votes. Turnout was 3%.
This pattern was repeated across the four Serb-majority municipalities in the north. Thirty NATO personnel were injured in the ensuing protests. Similar unrest was seen among Serbs in Bosnia, where the US dispatched B-1 bombers from England to fly over Sarajevo in a show of "rock-solid commitment" to their ally's territorial integrity.
But in Kosovo, Western criticism has focused surprisingly on the prime minister, Albin Kurti. They were angry that Kurti had disregarded Washington's advice to not hold the elections in the first place, predicting it would end badly. The Financial Times said Kurti was "stoking ethnic tensions".
Reactions have been harsh. The US cancelled Kosovo's participation in joint military drills while the EU introduced sanctions that will cost businesses an estimated €500m. Britain, one of the first countries to recognise Kosovo's unilateral declaration of independence in 2008, called on Kurti to withdraw special police units from the municipal buildings and ensure the new mayors operated from alternative locations.
Most stinging of all was Bill Clinton, who spearheaded NATO's intervention in 1999 against Serbia. The former US president said: "It's easy for the Albanians now in the majority to try to use the moment to make a point. But the real thing we need to do is to stop this foolishness."
Referring to places like north Mitrovica and Zvecan, he added: "What major political issue can possibly be advanced by how those four little towns are run?" For a country which built a statue of Clinton in Pristina, these developments have left many Kosovars feeling bewildered and betrayed.
Diplomacy not democracy
What Western officials wanted in Kosovo was not local elections but for Kurti to implement an EU-brokered agreement made in 2013 between Serbia and his predecessor, KLA veteran Hashim Thaci.
That deal envisaged the ten Serb-majority areas in Kosovo forming an Association of Serb Municipalities (ASM). The organisation would allow Serbs a limited degree of self-management over their affairs in Kosovo.
Kurti fears the ASM would be a trojan horse, giving Serbs a dangerous degree of autonomy akin to the Republika Srpska in Bosnia, where they retain their own police force and a share of the presidency – an arrangement enshrined in the 1995 Dayton peace accord.
But in a surprisingly rough BBC interview, Kurti was reminded "Serbs represent 30% of the population of Bosnia. Here, they represent 4 or 5%. So why are you so scared?" The prime minister responded: "We are not scared. We are just vigilant because Belgrade is using them to not recognise Kosovo and seek division."
Kurti went on to accuse the West of "being soft with Serbia" in order to "try to move it out from the influence of [the] Kremlin". He claims Russia could use Serb proxies to spark a conflict in the Balkans and distract NATO from Ukraine.
That narrative was amplified during the protests in Zvecan where pro-Putin 'Z' graffiti appeared around the town. When I visited last month a small red 'Z' was still visible on a mural of Ratko Mladic, the Bosnian-Serb militia leader convicted at the Hague for the genocide of more than 8,000 Bosnian muslim men and boys at Srebrencia in 1995.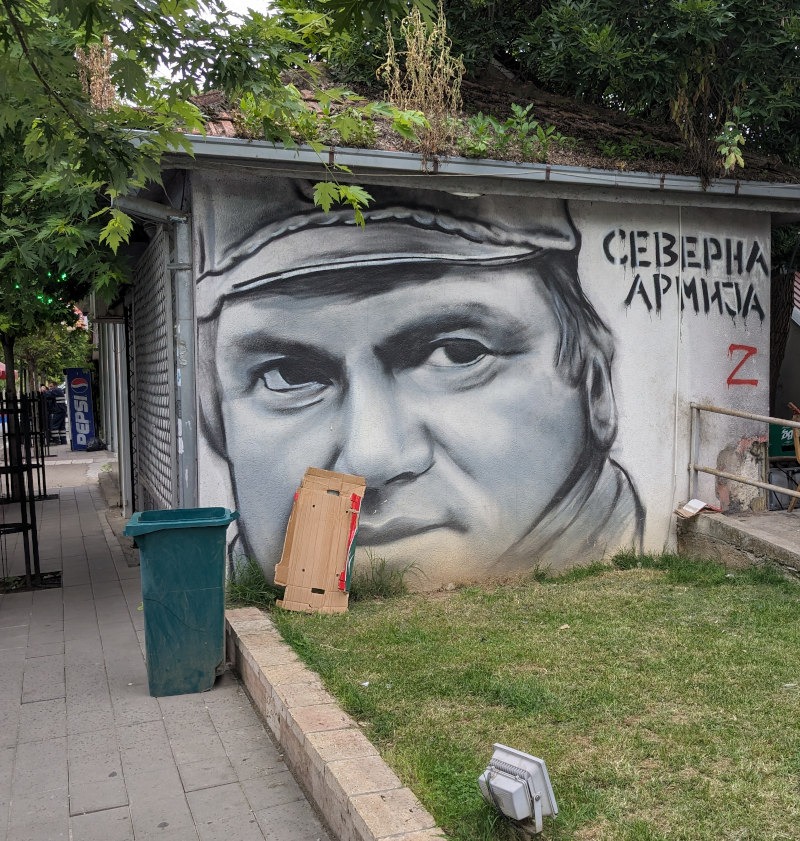 Alongside this stomach churning street art, Zvecan's protesters have pedestrianised the main road, lining it with parasols and wooden benches that look like pop-up cafes. Sitting around in groups of half a dozen, they smoked and chatted quietly while the rain drizzled down.
A bald man in his 60s ushered me over to find out who I was. He was friendly enough until I said I'm a journalist and his English suddenly dried up. Several reporters from Kosovo had been assaulted while trying to cover the recent developments.
Past the parasols stood a row of metal barriers adorned with Serbian flags and a black Nike style banner proclaiming "Just Protesting, No Violence." Rolls of razor wire and Turkish troops lined the other side. Days after the clashes in Zvecan, President Erdogan rushed 700 commandos to Kosovo to bolster NATO peacekeeping efforts.
Turkey has deep ties to Kosovo, having ruled it as an Ottoman province for five centuries from 1389. In Prizren, Kosovo's second largest city, Turkish remains an official language. Under Erdogan's "neo-Ottoman" foreign policy, he is happy to have Turkish armoured trucks loitering down side streets in Zvecan – however much Serbs might resent it.
'Eat them alive'
With the weather in Zvecan getting worse, I headed into a restaurant for shelter. Inside, two young Serbs invited me to join their table strewn with brown beer bottles. They were on an extended, possibly all afternoon, lunch break from the protest camp and happy to offer their views on the situation.
Vladimir, 20, is a sports science student and basketball fan. Miroslav, 31, is an electrical engineer who supports Chelsea. Like many here, they are admirers of Milun Milenkovic-Lune, a Serb who was arrested for allegedly attacking NATO peacekeepers in May and leading the 'civil defence' group, which Kurti has banned as a "terrorist" organisation.
Vladimir felt aggrieved."Milenkovic is our man – he is a champion who got kids off the streets, away from alcohol and drugs and into sports like kickboxing. It's embarrassing to arrest him because he's the icon of north Mitrovica. I am proud of him."
"We really, really don't want a war"
He described allegations of Russian influence in Zvecan as "painful", insisting "we are alone here. We don't even have Serbian police and we don't feel safe." The pair did acknowledge that their electricity bills were paid by Belgrade, allowing them to boycott payments to Kosovo's utility board. But Vladimir said he'd prefer a normal life, asserting: "We really, really don't want a war."
Miroslav, who experienced the NATO bombing in 1999 as a child, gave a more sinister message. "If there was a war with Kosovo and no other country was involved, we would eat them alive. [Albania's capital] Tirana would become our main city." Pointing at Vladimir, he said: "We are a family of warriors. We don't even give a fuck about death. Death is only the beginning in our culture."
He went on to compare Kosovar Albanians with Scots. "The English nation has a long history. And then somebody like the Scottish people came along with their William Wallace stuff. I don't hate them, I'm not racist. But that's what Albanians are like to us."
Gathering at Gazimestan
Early that day I had received a more sober briefing on Serb politics at the Gazimestan monument on the outskirts of Pristina. This stone tower commemorates the 1389 Battle of Kosovo.
It's where Yugoslav leader Slobodan Milosevic gave his infamous speech to around a million people on the battle's 600th anniversary in 1989 after suspending Kosovo's autonomous status within Serbia.
Fearing another incident this Vidovdan, Kosovo police lined the badly maintained road leading up to the tower and closely inspected anyone entering. A policeman scolded me for stopping to check my map. Once inside, wreaths were laid somberly at the foot of the tower.
The atmosphere was about as cheery as a prisoner being escorted to his granny's funeral. "There are much fewer people here than in previous years," 24-year-old Veljko Trajkovic informed me, complaining about the heavy-handed search he received on the way in.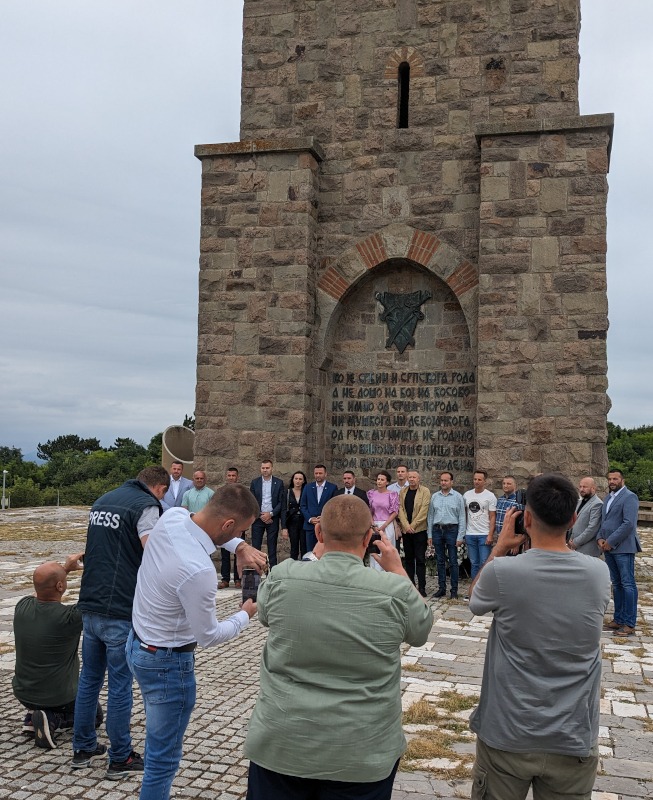 "We've lost a lot of people and freedoms since 1999," he lamented. Kosovo's Serb community has roughly halved in size since the war and seen around 155 religious sites destroyed. "There's always a passive pressure upon Serbians to leave Kosovo," he relayed.
"And that's what will lead in the end to a completely ethnically cleansed Kosovo. Because as far as I can see that's the main goal." Traditionally each Vidovdan, the Gazimestan monument is dressed in a giant banner of Prince Lazar. But the heightened tensions this year prevented such pomp and ceremony.
When asked if the north of Kosovo is poised to rejoin Serbia, Trajkovic played down the prospect. "I think that is possible but it wouldn't be a smart move. For example, my house wouldn't be in that part because I live near Gracanica."
Around 10,000 Serbs reside in the enclave on the outskirts of Pristina, which is famous for its monastery – a world heritage site. "In Gracanica, we are surrounded and don't have a territorial connection to Serbia," Trajkovic said.
A statue of Milos Obilic, who supposedly killed Ottoman Sultan Murad at the Battle of Kosovo, adorns the town's roundabout. In a show of support – or provocation depending on your perspective – the son of Serbia's president attended a church service in Gracanica this Vidovdan.
Among those also in attendance was a Chelsea football hooligan with a "Kosovo is Serbia" tattoo. The man, who I met on my flight home, said he was there to "support the Serbs" against the Albanians with their "higher birth rate" – a thinly veiled Islamophobic comment.
Whatever exotic characters may be attracted to the Serb cause, Trajkovic felt they were far from the aggressors. He thought the Association of Serb Municipalities "will help our people, but it's a pyrrhic victory because it will be created under the wing of Kosovo. It won't be a part of Serbia. We are getting something for our people, but we are also making an admission of our powerlessness."
Trajkovic said allegations of Russian support were "reaching" and "had nothing to do with any facts". He pointed out that Serbia wants to join the EU, and I'd noticed a Serbian cadet attending Sandhurst for the first time last year.
President Vucic has even signalled a willingness to supply Ukraine with ammunition – although all Serbian arms exports have been temporarily suspended (officially in protest at US sanctions on their intelligence chief, unless it's a pre-war stockpiling move).
"I don't think Albanians should say we are supported by anybody," Trajkovic added. "We are not the ones being guarded by the big powers. Pristina is one of the rare places where you can see a statue of Bill Clinton. That's crazy. I don't think this Republic can hold itself without help from the outside."
Forever NATO?
Trajkovic was pointing to the 4,500-strong NATO peacekeeping force that remains in Kosovo a quarter century after the war. Britain contributes 64 troops to the mission, a number that will rise briefly to 330 in August for an exercise.
In part, they are here to protect the Serb minority, especially in enclaves like Decani in western Kosovo. When I went to visit this 14th century monastery, I had to weave through a formidable checkpoint manned by Italian troops and surrender my passport. The monks there claim to face a severe threat from Albanian arsonists, some connected to Islamist terrorism.
Yet the bulk of NATO's presence is to deter Belgrade from attempts to reimpose its sovereignty. Serbia's current president, Aleksandar Vucic, was democratically elected in 2017 but has since overseen a decline in press freedom.
He has a dark past on this front. Journalist Lily Lynch notes how "In March 1998, while stepping up the violent campaign of repression in Kosovo, Milosevic appointed the 27-year-old Vucic as minister of information, giving him free rein to bully the Serbian press, shut down critical newspapers and hound the opposition."
Vucic has made some attempts to distance himself from the Milosevic-era by attending memorials to the victims of Srebrenica. Yet his government is Janus-faced, recently awarding a scholarship to two Bosnian Serb students that glorified the massacre.
In Kurti, Vucic may have met his match. Both men can be reckless and nationalistic when it suits. Kurti once released tear gas in his own parliament and wants to hold a referendum on whether Kosovo can join Albania. BBC journalist Stephen Sackur put it to Kurti: "You're known as an impulsive, hot-headed nationalist politician. You may push this too far."
Exit plans
Some think the conflict is already primed. Sitting on his veranda in Gracanica, Roma activist Dzafer Buzoli feared for the future. "Last night I had Albanian and Serbian friends round my house for a party," he told me. "Some of the Albanians here even support Djokovic when he plays tennis. But the tensions are getting too high."
The pressure recently made international news when Kosovo MPs had a fist fight in parliament. "Another war could break out in the next few months," Buzoli lamented. "Most people have a suitcase packed, just in case they have to leave in a hurry."
He felt Kosovo's previous PM, Hashim Thaci, would have met Vucic to defuse tensions, something Kurti appears unwilling to contemplate. Veteran statesmen like Thaci are currently absent, defending themselves from a war crimes suit in the Hague.
Whatever happens, the risk of war will drag like an anchor around the neck of Kosovo's already flagging economy. Kosovo remains one of the poorest countries in Europe and the country's business community has called for Kurti to "come to his senses".
The only growth industry seems to be petrol stations, which line the highways with bizarre frequency. Buzoli suggested they were really money laundering operations for the infamous Albanian drug cartels.
Mafia-don style mansions pop up deep in the countryside, where KLA commanders have settled down. A declassified British government file written shortly after the war said a senior KLA veteran was "up to his neck in smuggling and organised crime".
Many Kosovars youths are voting with their feet and emigrating, legally or otherwise, to richer western nations. The Grand Mufti of Kosovo lamented this brain drain in his Eid sermon. A young ethnic Albanian man in a KLA stronghold told me "we are the most patriotic with our army, but are never rewarded with work."
The uncertainty over Kosovo's territorial status cannot help its economy. Bosnia, by contrast, has seen an array of foreign investment since the Dayton accord, in part by cultivating its Islamic connections. In central Sarajevo, where civilians once dodged Serb sharp shooters on 'Sniper Alley', stands an enormous €50m shopping mall financed by Saudi investors.
Qatar Airways has five flights a week from Doha to Sarajevo, which is now an established destination for Gulf tourists. Aside from some special relations with Turkey, Kosovo has mostly put its eggs in the EU/NATO basket, which might leave it vulnerable to the whims of Brussels and Washington.
Mission creep
The unilateral nature of Kosovo's independence has meant that there is still no internationally accepted roadmap to rally around. In 1999, NATO went all in on the side of ethnic Albanians, and may now feel it needs to make some small concessions to Serbia (like the ASM) to draw a line under the conflict and allow relations to normalise.
British policy in particular seemed to suffer from mission creep. While contemplating military intervention in January 1999 to stop Milosevic's atrocities, Blair's first foreign secretary Robin Cook told the Cabinet: "It was the KLA that was breaking the ceasefire and killing Serbs. Airstrikes which bombed Serb targets would serve to advance the KLA cause…NATO must not become the air force for the KLA."
And yet that was exactly what happened, with the RAF dropping more than 500 cluster bombs on Serb targets. By May 1999, Blair told his colleagues: "Serb troops in Kosovo were being constantly harassed by NATO aircraft; the Kosovo Liberation Army (KLA) had as a result been able to register some success in their own struggle".
New Labour ministers were well aware an outright victory would not guarantee peace in the Balkans, but pursued that path regardless. Defence secretary George Robertson, who went on to lead NATO, told the Cabinet in early 1999: "Independence for Kosovo would not be the end of the process. Other parts of the Balkans, including Republika Srpska, would demand similar treatment, and the pressure to grant this would be inexorable".
Fast-forward nearly a quarter century, and the former Yugoslavia is still grappling with the consequences of these policies and precedents. Whether it can finally be resolved without another round of bloodshed in the Balkans remains to be seen.