Part 2 of Declassified UK's investigation into the Manchester bombing
Manchester bomber Salman Abedi, his father Ramadan and brothers Ismail and Hashem were allowed to freely operate in the war zone of Libya for years before the 2017 atrocity.
Evidence that emerged from the official inquiry into the Manchester Arena attack shows Salman Abedi was never subject to controls on his movements to Libya before his 2017 bombing that murdered 22 people – despite a stream of intelligence showing his contacts with extremists.
Also remarkable is that both Ramadan and Ismail Abedi were in 2011 and 2015, respectively, subject to port stops in the UK by security services, who downloaded extremist material from the Abedis' mobile devices – but they were still allowed to travel back and forth to Libya.
The security services did nothing to stop, and reportedly encouraged, British-Libyan radicals such as the Abedis to fight against Muammar Gaddafi's regime in the war in Libya in 2011.
In the years following, they turned a blind eye, at least, to the Abedis' travel to and from Libya, while the country remained a warzone and with the Islamic State terrorist group increasingly active there.
Different to Syria
Uprisings began in both Libya and Syria in early 2011 during the popular 'Arab Spring' movement that was challenging dictators in the Middle East and North Africa.
Initially UK policy was similar in the two countries. In Libya, the UK military supported and worked alongside Islamist militants during the 2011 war to overthrow Gaddafi. Salman and Hashem Abedi travelled to that war with their father and associated with Islamist militias being supported by the UK.
From 2012, it was clear that Al Qaeda and later Islamic State were increasingly active in Libya.
In Syria, the UK began a covert operation by late 2011 or early 2012 in partnership with the US and its Middle Eastern allies to overthrow the regime of Bashir al-Assad. By 2014, however, Islamic State had become a major force in Syria and UK authorities started to clamp down on Britons travelling to fight there.
The Manchester inquiry, which finished hearing evidence in March and will report later this year, heard various witnesses say the security services had a different approach to Britons travelling to Libya as to Syria.
Dominic Scally of the Greater Manchester Police (GMP) told the inquiry "the national priority was Syria and for every individual who travelled to Syria, we had a plan for how we were going to receive them back, where they were".
But Libya, he said, was "a very different matter for those who have legitimate reasons to travel there", adding: "I'm not aware of us necessarily tracking Libyan fighters."
"This policy towards Libya involved turning a blind eye to terrorism."
This policy towards Libya involved turning a blind eye to terrorism.
Abdalraouf Abdallah, for example, was a close friend of Salman Abedi who was convicted for terrorism offences regarding Syria. He was said by witnesses to the inquiry to have been involved in procuring weapons in Libya, in touch with a Libyan facilitator linked to Islamic State and to have facilitated Britons to go and fight there – but he was prosecuted only for similar activities in Syria, not in Libya.
Abdallah's lawyers wrote: "It is important to remember that participation in the Libyan revolution against the Gaddafi regime was never regarded as terrorism by the British government. Nobody from the UK who fought in the Libyan revolution against the Gaddafi regime has been prosecuted for terrorist offences upon their return to the UK".
When a representative of Manchester Islamic Centre, the Abedis' local mosque, was asked by the public inquiry if police were concerned one of their imams had been pictured in Libya wearing combat fatigues, he replied: "If he was really fighting there, I don't think the security service would have cared."
Similarly, Paul Costello of the GMP told the inquiry that those travelling to Syria faced criminal prosecutions but that these "weren't taking place in relation to travel to Libya".
He said the activity of people like Abdallah in respect of Libya "potentially is captured within the definition of terrorism" but that it was down to the Crown Prosecution Service to prosecute people, which it did not.
MI5 admitted at the inquiry it "put Syria and Libya in different categories". It claimed: "We weren't detecting strong indications that Islamic State in Libya was focused on western attack plotting in the way that we did clearly see from Syria, Iraq and the surrounding region".
MI5 also claimed that "there was a range of reasons for such travel" to Libya "many of which were entirely legitimate", unlike travel to Syria. It added it did not have intelligence to indicate that Salman Abedi was engaged in fighting or was attending training camps or affiliating with Islamic State.
These claims barely stand up, however.
'Surrounded by heavy weaponry'
The inquiry's expert on Islamic extremism, Matthew Wilkinson, said: "There's a lot of evidence from 2011 onwards, 2012, 2014, 2017 in particular … Salman was surrounded by people that had heavy weaponry, heavy machine guns".
MI5 first received information about Salman Abedi in December 2010, linked to another 'subject of interest'. They said this was a "faint link" and he was not judged to be a threat to national security.
From March-July 2014 Salman was placed under active investigation by MI5 but then closed as a subject of interest.
But at no point between 2010 and 2017 was Salman Abedi subject to a port stop under the Terrorism Act. This gives officers the power to stop, question, search and detain, individuals at UK ports to determine whether they have been concerned in the commission or preparation of an act of terrorism.
MI5's witness at the inquiry, known only as 'Witness J' to protect their identity, said that after 2011 it received information on Salman Abedi's travel to Libya "on a number of occasions".
But the witness added: "As Salman Abedi's travel was onwards to Libya, we did not consider this information showed that Salman Abedi posed a risk to national security".
Parliament's Intelligence and Security Committee had earlier said it was "highly surprising" Salman Abedi was not subject to a port stop. One of the lawyers for the 2017 bombing victims, Pete Weatherby, argues that this was "remarkable" and "inexplicable".
"We did not consider this information showed that Salman Abedi posed a risk to national security."
He notes that, "from December 2013 until the bombing there was a persistent stream of intelligence and information coming through to the security services" about him.
Salman Abedi spent the summer of 2016 in Libya where Islamic State was known to have training camps at this time. The group was plotting European attacks and training people for them.
By then there had been terrorist attacks in Tunisia and across Europe connected to Islamic State's Libyan affiliate.
In terms of the risks of terrorism in the UK and Europe, Libya appeared on any rational calculation to be more dangerous than Syria or Iraq.
In 2015, Metropolitan Police assistant commissioner Mark Rowley told parliament's Home Affairs Committee that a terrorist attack in Tunisia "has links to Libya and it's a trend that we are obviously concerned about … the number of ungoverned states, places where law enforcement isn't really working effectively across the world which terrorists find as a safe place to operate – whether you talk about north of Iraq or Syria, or whether you talk about Libya it's the same challenges that act as a training and operating base for terrorists".
Kenny MacAskill MP recently asked the Foreign Office when it first identified Islamic State as posing a threat in Libya. It refused to say, claiming: "It is the longstanding policy of successive British governments that we do not comment on intelligence matters".
"Security services knew by 2010 that extremists in Manchester could pose a threat."
But the security services knew by 2010 that extremists in Manchester could pose a threat. It was in December of that year that the MI5-led Joint Terrorism and Analysis Centre (JTAC) produced a report on Manchester concluding there was an issue of Islamist extremism among elements in the community.
The report covered how radicalisation within the Libyan community in Manchester had been influenced by the elder generation's historical links to extremist groups such as the Libyan Islamic Fighting Group (LIFG).
The LIFG was an al-Qaeda linked group with whom Ramadan Abedi had long been associated.
But the full JTAC analysis has never been made public. The Home Office has said that "disclosing the report would cause damage to national security".
Encouraged by MI6?
Remarkably, the official inquiry barely probed whether the security services specifically encouraged fighters in Britain like the Abedis to go to fight in Libya, either in 2011 or after.
Journalist Peter Oborne wrote in the Daily Mail just after the 2017 bombing that the British-Libyans left Manchester to fight Gaddafi in 2011 with the "encouragement of MI6". The Guardian also wrote that UK policy involved "encouraging exiles, such as Ramadan, to return to Libya to fight Gaddafi".
Similarly, an investigation by Middle East Eye found the UK government operated an "open door", "no questions asked" policy. Some sources said UK officials "facilitated" the fighters travelling to Libya, including some who it deemed to pose a potential security threat because of their designation as extremists.
"As far as the UK Government, they allowed them to go there to fight Gaddafi."
Yet only in two evidence sessions during the inquiry was this issue very briefly raised. In one, it was swiftly rejected with a police officer saying the suggestion was "unlikely".
In the other, one of the witnesses, Alzoubare Mohammed, a friend and associate of the Abedis, said: "As far as the UK Government, they allowed them to go there to fight Gaddafi". But this was not followed up in questioning.
The earlier media reports carry more weight in the light of the evidence that did emerge from the inquiry on the port stops that were conducted on Ramadan and Ismail Abedi – who were still allowed to travel to Libya as normal.
Ramadan Abedi's port stops
In November 2011, Ramadan Abedi was subject to two port stops by the security services – one at Manchester airport when he was returning to the UK from Libya, and the second when he was leaving the country again from Dover.
The inquiry heard that Salman Abedi was present at one of these port stops.
Ramadan told port officers in November 2011 he'd been on four trips to Libya that year, "taking aid and supplies to the rebels", forces which had the overall support of the UK and Nato.
On one trip, he took a Jeep from Tunisia to Libya in the first week of August 2011 travelling with Salman and Hashem. Material later downloaded by the police showed a photo taken on 17 August 2011 of Salman Abedi with a rifle in front of a banner of the 17th February Martyrs Brigade. In the second port stop on 17 November, police downloaded Ramadan's phone and one photo showed him with an automatic weapon in Sabratha, a town in western Libya.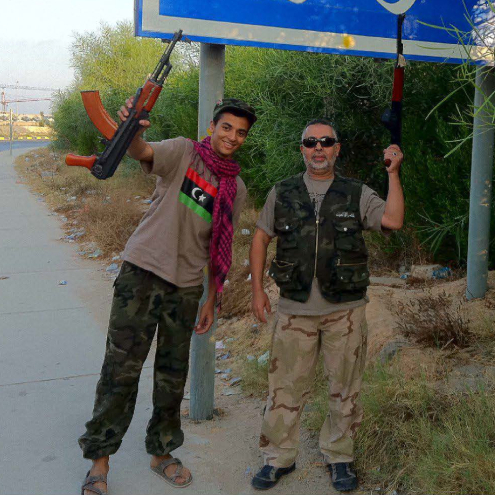 Two of the downloaded files read: "Home video in the city centre of Sabratha, featuring Ramadan Abedi with an automatic weapon. Home video in the city street of Sabratha featuring Ramadan Abedi with an automatic weapon."
The inquiry refused to release the videos to Declassified.
The inquiry also heard that "the contents were shared with relevant partners", presumably meaning MI5.
Yet Ramadan Abedi was not stopped from travelling to Libya or apprehended for further questioning in the UK.
This was despite his long history of being linked to a number of leaders of the LIFG, and even a senior Al Qaeda operative, who lived in Manchester and who were his friends or associates.
Declassified submitted a freedom of information request to the Home Office asking for information on Ramadan Abedi's port stops. It replied saying it could "neither confirm nor deny" whether it held such information, which would breach data protection principles.
Ismail Abedi not apprehended
Ismail Abedi was also left alone by the security services following an even more revealing port stop. This occurred on 3 September 2015, as he and his wife were stopped at London Heathrow Terminal 4 after they had disembarked from a flight from Amsterdam.
They were interviewed and their electronic items were seized and downloads from them obtained.
The Greater Manchester Police (GMP) told the inquiry there was pro-Islamic State material on the downloads including numerous jihadi chants encouraging the killing of infidels and suicide martyr missions, jihadist recruitment videos and so−called martyr poems.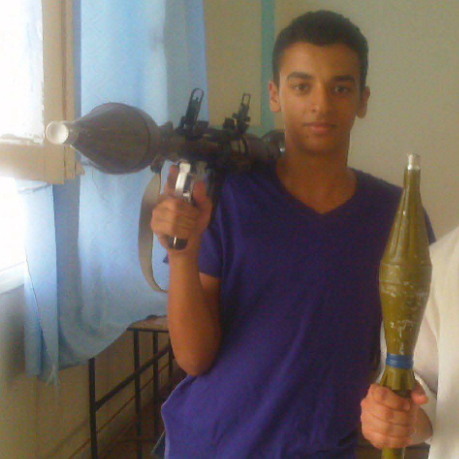 This was not the first time the security services had encountered Ismail.
Two months before the port stop, in July 2015, the security services had viewed and assessed Ismail's Facebook account. Simon Barraclough of the GMP told the enquiry: "The account contained 58 captures [photos] and this includes numerous images and videos of males in camouflage clothing with military weapons."
He added: "Ismail Abedi appears in numerous images, holding a pistol, an RPG launcher, holding what looks to be an artillery piece, an assault rifle, sitting on an anti−aircraft gun, holding a machine gun, and in camouflage clothing holding a machine gun with what appears to be an ISIS logo in flames behind him."
Barraclough also said: "There was also an image of Ismail Abedi holding a rifle with the February 17th Martyrs Brigade flags behind him, which is similar to the image where Salman Abedi is present with flags behind him"
Photos also showed Salman Abedi, cigarette in mouth, with a 50−calibre machine gun, and were taken in 2011.
Yet Ismail was not apprehended in 2015. Instead, a counter-terrorism police sergeant examined the material and "concluded that it did not meet the evidential threshold for submission" to the Crown Prosecution Service (CPS), the police said.
"This was not the first time the security services had encountered Ismail."
The GMP added: "There can be no doubt that some of the content from these devices would amount to 'mind-set' material in a criminal trial for terrorist offences". However, it also stated that "that does not mean of itself that simple possession of it would amount to a criminal offence."
Even after the bombing, the GMP was saying "the CPS advised that currently, there was insufficient evidence for there to be a realistic prospect of conviction for any proposed terrorist offences".
The Metropolitan Police refused Declassified's freedom of information request for information about Ismail Abedi's port stop. Its information manager said: "Having located and considered the relevant information, I am afraid I am not required by statute to release the information requested", citing "national security".
In a further twist, Ismail was called to attend the inquiry but was allowed to leave the country in August last year even after the police had detained him under the Terrorism Act and questioned him.
The GMP told the inquiry that its powers "could not… be used to deliberately frustrate the travel plans of an individual who is due to give evidence at a public inquiry."

Read Part 1 of Declassified UK's investigation into the Manchester bombing.
---
---