Since being sacked from Boris Johnson's cabinet over the exam grades fiasco, former education secretary Sir Gavin Williamson has largely faded from the public eye. The Conservative MP for South Staffordshire has little credibility left, having already blown his second chance.
Theresa May had earlier dismissed Williamson as her defence secretary over an alleged leak of national security material. Even his enthusiastic support for Rishi Sunak's leadership campaign was only enough to earn him a two week stint as a minister without portfolio.
Shunned at home, Williamson has turned his attention abroad and become a minor celebrity in the geo-strategic Horn of Africa. His greatest supporters are in Somaliland, where in 2019 he was the first British cabinet minister ever to visit. Keen to have him back, Somaliland's Chamber of Commerce spent £4,620 flying him over last February to meet their president, ex-colonel Muse Bihi Abdi.
The authorities in its capital of Hargeisa even issued Williamson with a passport, although he might struggle to use it. The region is not recognised as an independent state by the UK, something Williamson believes is wrong. Shortly before his trip, he held a debate in Parliament to highlight the plight of this former British colony.
Williamson was keen to tell fellow MPs that as far back as 2001, Somalilanders had voted in a referendum for independence from war-torn Somalia. How much longer until Britain embraced the result?
While it is true that historically some parts of Somaliland did suffer greatly under central rule from Somalia, as my colleague Matt Kennard has meticulously documented, the situation now looks more complicated.
When we were celebrating Christmas and New Year, pro-Somalia activists took to the streets of Laascaanood (also spelt Las Anod). That's a city in the east of Somaliland which only came under Hargeisa's control in 2007.
They rallied over the killing of a popular local politician, blaming his death on masked assassins sent from Hargeisa. They also accused President Abdi of becoming increasingly autocratic. His mandate expired in November but new elections were cancelled.
In response to these demonstrations, authorities deployed armed men to Laascaanood. A doctor at the local hospital told Reuters at least 20 people were subsequently killed by gunfire.
Dozens more were injured. Many of them appeared to be civilians. Among the dead was an American citizen and Islamic scholar, Bidde Farah Alin.
President Abdi sent his condolences and ordered an investigation, but put the death toll at just three.
UK funding
The bloodshed is politically embarrassing for Williamson. Dozens of British-Somalis gathered outside the Foreign Office in London yesterday to protest against the UK's growing role in Somaliland. Many of them had family or friends in Laascaanood who were affected by the shootings.
Healthcare worker Khadija Adam told Declassified that Westminster MPs "should be impartial" and "absolutely not" be taking money from the Hargeisa authorities. "They attacked our people – they were letting out bullets into the crowd," she said. "They want them to join Somaliland by force. But when the British coloniser left Somaliland, we freely chose to join greater Somalia."
Another demonstrator, who asked not to be named, believed Williamson was "in the pocket" of Somaliland and said the situation was "very heartbreaking".
The massacre also has wider implications for Britain's policy towards the region. Although Somaliland is not officially recognised, the UK has been willing to work closely with its security forces. These include the Rapid Response Unit (RRU), an elite police team implicated in the Laascaanood killings.
Elham Ismail, a criminology student who visited the city soon after the massacre, told Declassified that 100 RRU paramilitaries with a dozen armed vehicles were responsible. She shared photos in which the group's distinctive black-clad uniforms are visible among demonstrators.
The RRU was funded by British taxpayers from around 2013 until 2020, despite long-running concerns over its human rights record. Britain's Foreign Office did not respond when asked to confirm if the RRU had shot protesters in Laascaanood.
Abdullah Hirad, a medical doctor in Birmingham who attended the London protest, commented: "As a British citizen, I feel very disappointed and angry that our tax has been paid to such criminals. We are in a volatile area in East Africa. The UK should not encourage the eruption of a new civil war in this part of Somalia."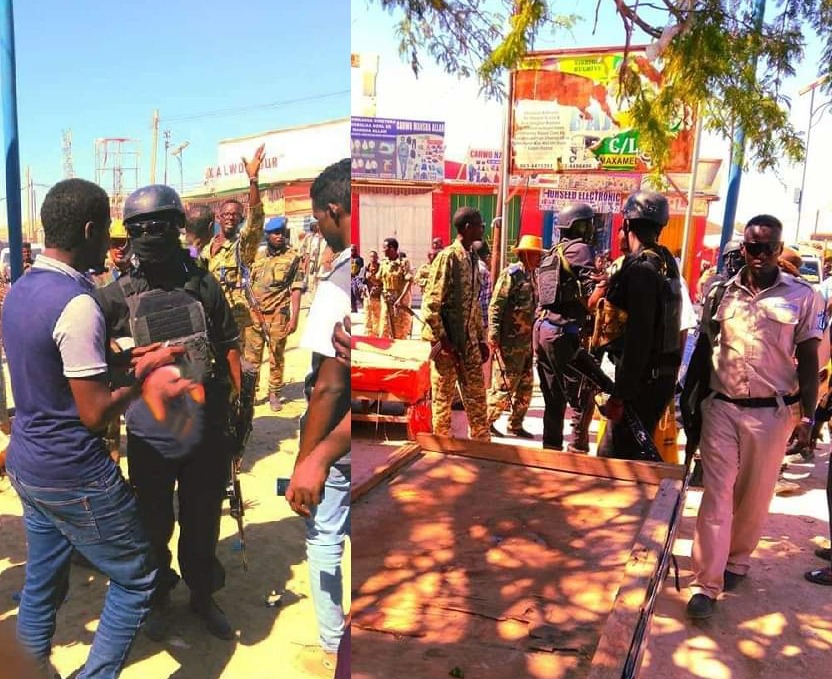 Even if a different police unit was responsible for the killing, there's a high chance they too have received UK aid. Britain built Somaliland's police headquarters, training academy and a pre-trial detention facility. Vehicles and generators have also been donated. In one year alone, this support cost Britain £1.4m.
Yet for all this money, the UK's ambassador to Mogadishu (Somalia's capital) merely said she was "concerned about the violence in Laascaanood resulting in civilian deaths and casualties." Britain's representative to Hargeisa has not commented separately.
Several soldiers are also seen in images from the incident, and it's possible the UK trained their unit too. When Williamson visited Somaliland in 2019 as defence secretary, he appeared thrilled to meet its top army general. He was accompanied by Sir Mark Carleton-Smith, the then head of the British army and a former head of UK special forces.
The following year, Lieutenant Colonel Huan Davies, Britain's defence attaché in Mogadishu, went to Hargeisa to discuss increasing support for Somaliland's military. The UK Ministry of Defence has previously paid Adam Smith International, a security consultancy, to train Somaliland's military intelligence.
Stability in this region is regarded as paramount for international trade, with a major shipping lane located along Somaliland's coastline.
DP World, the Dubai-owned logistics firm that fired 800 P&O workers, opened a new terminal in Somaliland's Berbera Port last year. Its staff there briefed Williamson on his recent visit, and the company is close to the Conservative Party, who fancied it for their Brexit freeports.
British company Genel Energy is trying to extract over two billion barrels of oil in the disputed region. Genel is well connected to the Tories, with ex-energy and defence minister Michael Fallon as its deputy chairman. Former shareholders include disgraced chancellor Nadhim Zahawi.
Somalia's government in Mogadishu rejects Genel's claim to own oil rights in Somaliland.
Historically, Laascaanood played a leading role in the movement against European imperialism. As a result, many residents remain deeply suspicious of Western agendas in the Horn of Africa and what they see as attempts to break up Somalia. Sam Ahmed, a policy advisor, told Declassified that UK involvement in Somaliland is "profit driven" and "not altruistic".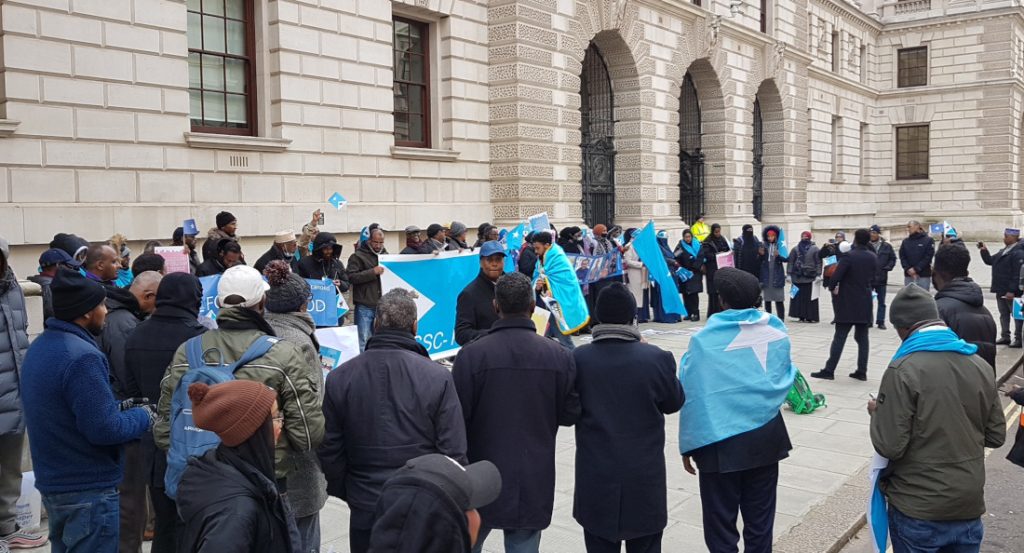 Missed warnings
The massacre in Laascaanood is not the first sign that human rights in Somaliland are under threat. While the region is mercifully free from the scourge of Al Shabaab terrorism, its leaders have a selective attitude to civil liberties.
Reporters Without Borders criticised Somaliland authorities for banning the BBC's Somali language service. And Amnesty International has said: "Authorities in Somaliland severely restricted freedom of expression, particularly targeting individuals perceived to be promoting unity with Somalia."
Mohamed Abib, an MP in Somaliland, spoke out last month about a growing number of assassinations, which have often happened around Laascaanood. In 2021, over 7,000 people were evicted from the city and surrounding areas for allegedly posing a security risk. They were forcibly transferred to Puntland, a semi-autonomous region in Somalia.
All this might give Williamson pause for thought on his support for President Abdi, so I asked him to comment on the recent events. He did not respond.
A UK government spokesperson said its previous funding of the RRU "provided equipment and training, including in human rights and rules of engagement."
---
---