The favourite to win the Philippine presidential election on 9 May is Ferdinand 'Bongbong' Marcos Jr, whose father, Ferdinand Sr, was responsible for over 3,000 summary executions, 34,000 cases of torture and 70,000 wrongful incarcerations when he ruled the country between 1965 and 1986.
Today Bongbong is an eager advocate for outgoing President Rodrigo Duterte's own brand of authoritarianism, which has persecuted and jailed journalists, imposed martial law in the southern Philippines and murdered 30,000 drug users and political enemies since 2016.
Declassified documents show British elites supported the Marcos Sr regime as surely as it has Duterte's, as they both committed widespread crimes.
Ferdinand and Imelda
During Ferdinand Marcos' first administrations in the 1960s and 70s, the Philippines was a key foothold for the United States in the Cold War. As soon as he took office in 1965, Marcos made his country available as a base for US troops fighting the Vietnam War and committed 10,000 Filipino logistical and medical personnel to the effort.
Marcos and his glamorous wife Imelda befriended Presidents Johnson and Nixon, and donated $67m to Ronald Reagan's election campaigns in the early 1980s.
The Marcoses – who were eventually accused of embezzling a staggering $5-10bn from the Philippines' coffers – invested heavily in the US, amassing a property portfolio in New York City worth $350m.
As Washington's 'junior partner', Britain also cultivated good relations with what historian Primitivo Mijares dubbed "the conjugal dictatorship".
Imelda visited the UK on several occasions and was given an audience with the Queen on the morning of 11 September 1970 – there can be no greater endorsement by the British establishment than that.
On the same trip, she took the 12-year-old Bongbong to begin boarding at Worth Abbey public school near Crawley in Sussex.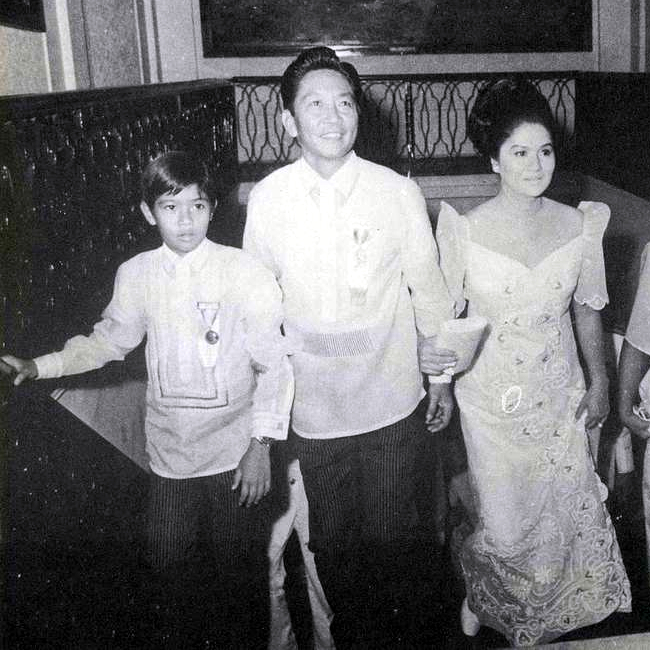 The Marcos' relationship with Britain's royal family continued. In 1982, Prince Charles visited the Isles of Scilly, off the Cornish coast, and drove a speedboat named Imelda. It was a gift from the Philippines' first lady.
Media reports from the mid-1980s note the Marcoses had come to own $14m of property in the UK, but the locations remained unclear.
However, a now-declassified note dated 11 March 1986 written by an official, R I Drummond, of the South East Asian Department of the UK Foreign Office reveals that "the Marcos family would appear to own a property in Berkeley Square/Duchess of Bedford Street (or Square)" in plush central London.
There is an intriguing link to Bongbong: "The property was bought by Marcos' son in the mid-Seventies," the document states.
Missing billions
After the Marcoses' ouster by a peaceful revolution in February 1986, the Philippine Presidential Commission on Good Government (PCGG) pressured the British government to help find the missing billions.
The British Ambassador to the Philippines, Robin McLaren, wrote a "confidential" message on 20 May 1986 to officials in Hong Kong. He warned that the Hangseng Bank there assisted with remitting "substantial US dollar funds from New York to Manila to be paid into one of the Marcos accounts at the SBTC", the Philippines-based Security Bank and Trust Company.
Such potential transgressions fell under the purview of the Foreign Office because Hong Kong was then a UK dependent territory.
McLaren set a tone of official reluctance to assist with holding one of the worst dictators of the late twentieth century to account. "While we realise there is probably not much advice you can give, I should like to appear helpful in responding to the PCGG," he wrote.
In another document from June 1986, an unnamed "Political Adviser" suggested giving a similarly evasive reply to a US Department of Justice request for information regarding "a large loan" made while the Marcoses were in power.
This loan was "from the US Government to the Philippine Armed Forces and Amworld", an American arms and tech company. The document said the US letter of request "alleges that parts of this loan were used to make corrupt payments, being laundered through Hong Kong."
Nevertheless, the British adviser warned against cooperating because the "letter does not demonstrate clearly that criminal proceedings are likely to ensue if material evidence is obtained."
The counsel turned out to be incorrect. In December 1987, two businessmen involved in this scheme, a Filipino named Raymond M. Moreno and an American expatriate in Manila, John J. Ward, both pleaded guilty to "conspiring to defraud the Pentagon in an alleged $3m kickback scheme", according to the New York Times.
---
---
Prince Philip
As the Marcos regime began to crumble in the early to mid-1980s, it earned international notoriety for its increasingly violent and draconian measures against a growing pro-democracy coalition of agricultural workers, intellectuals, students, indigenous rights activists, priests and trade unionists.
After Marcos' arch foe Benigno 'Ninoy' Aquino Jr was assassinated as he stepped off a plane in Manila International Airport in 1983, Prince Philip decided to cancel a proposed visit to the Philippines to attend an International Equestrian Federation meeting.
Even the right-wing Daily Mail thought the move too little too late. "It seems incredible," fumed columnist Nigel Dempster, "that the British monarchy should allow itself to be associated with Marcos, whose country is rife with corruption, child prostitution and abnegation of human rights."
Such a half-hearted gesture would set the trend for the British military-industrial complex's dealings with the regime in its dying throes.
"British officials were aware of these atrocities."
In April 1985, security forces murdered the Italian priest Father Tulio Favali in North Cotabato municipality, prompting international outrage, while in September up to 30 unarmed farmers were shot dead in Negros Occidental. 
British officials were aware of these atrocities. In a letter dated 5 July, David Carter of the Foreign Office's Southeast Asia Department warned that, since "the Philippines Constabulary have a very poor human rights record", there are "strong grounds" for refusing export licences for riot control equipment.
His concern was more about negative optics than humanitarianism: "Our standing in the Philippines and in a wider domestic context could suffer substantially, and with lasting effect, if it became known we were supplying this equipment," he wrote.
Arms loopholes
However, all manner of loopholes allowed British companies, in the space of less than a year, to sell £2.5m (£800,000 in 1985 prices) in military equipment to the Philippine Armed Forces, Ministry of Defence and other repressive state bodies.
British officials in Margaret Thatcher's government refused export licences for some equipment, such as anti-riot batons, but allowed other items that could be used to promote repression, such as smoke grenades, weapons sights and explosive charges.
UK officials also dropped hints to arms exporters about how to avoid scrutiny. For example, an application from one company, Transac International, to sell a "multi-role armoured vehicle" to the Philippines prompted a message from Drummond to an official in the trade department.
"If exported from [the] UK," he wrote on 4 February 1985, "we would not, at present, be inclined to grant an export licence. However, as it is, we believe, constructed in West Germany, a UK export licence may not be required."
Other documentation refers to the sale of two "Command Ships" and four "basic LSTs" – landing ship tanks typically used for amphibious invasions – to the Philippine government.
Backing Duterte
This was small beer compared to Britain's more recent military and monetary support of Marcos' political descendant, Rodrigo Duterte.
As reported in Declassified last year, Britain's current Conservative government has approved £93m worth of weapons exports to the Philippines since 2016 when the so-called 'drug war' began.
Insecure about its role on the world economic stage post-Brexit, the UK did £2.3bn of other kinds of trade with the Philippines in 2018-19, an increase of 500% on the previous year.
Moreover, Britain says it "routinely" trains Philippine cadets in various military academies in the UK. Disturbingly, the Tories have tried to align themselves ideologically with Duterte, with former trade secretary Liam Fox telling the autocrat in 2017 that Britain has "shared values" with him and his country.
British politicians, royals, businesspeople, soldiers and diplomats have been complicit in the two darkest chapters of the post-independence history of the Philippines.
If both Bongbong and his running mate Sara Duterte – Rodrigo's daughter – win on 9 May, there will be a conjoining of two nefarious political dynasties that could take the Philippines into an even darker new era.
Britain, as before, will be there to exploit the situation.
---
---