A powerful Westminster lobby group paid £4,000 to take the current foreign and home secretaries to Israel in August 2015, as part of its efforts to cultivate the British political establishment into a pro-Israel position.
Cleverly, foreign secretary since September 2022, has backed Israel's collective punishment of Palestinians, including halting water, electricity and food from going into the Gaza Strip.
These actions are illegal and constitute war crimes, according to Human Rights Watch.
The first entry in Cleverly's register of interests after he became an MP at the May 2015 election was from Conservative Friends of Israel (CFI). The group paid for the new MP for Braintree in Essex to be part of a "fact finding political delegation" in Israel and the West Bank.
The trip was for four days, from 30 August to September 4, and cost £2,000. Cleverly was part of a delegation of nine Conservative MPs, which also included Suella Braverman, who had also entered parliament three months before, and is now home secretary.
"As minister for the Middle East, Cleverly defended Israel's last bombing campaign in Gaza in May 2021"
CFI says it "works to promote its twin aims of supporting Israel and promoting Conservatism in the UK".
It does not disclose its funders but has claimed 80% of Conservative MPs are members. Declassified previously revealed that the group has funded over a third of the current British cabinet.
Cleverly was previously UK minister for the Middle East from 2020-22 during which time he defended Israel's last bombing campaign in Gaza in May 2021.
Sir Alan Duncan, a UK foreign minister from 2016-19, wrote in his recent memoirs that the CFI had succeeded in stopping his own appointment as minister for the Middle East in 2016 because of his support for Palestinian human rights.
He added: "Israel thinks it controls the Foreign Office. And it does!"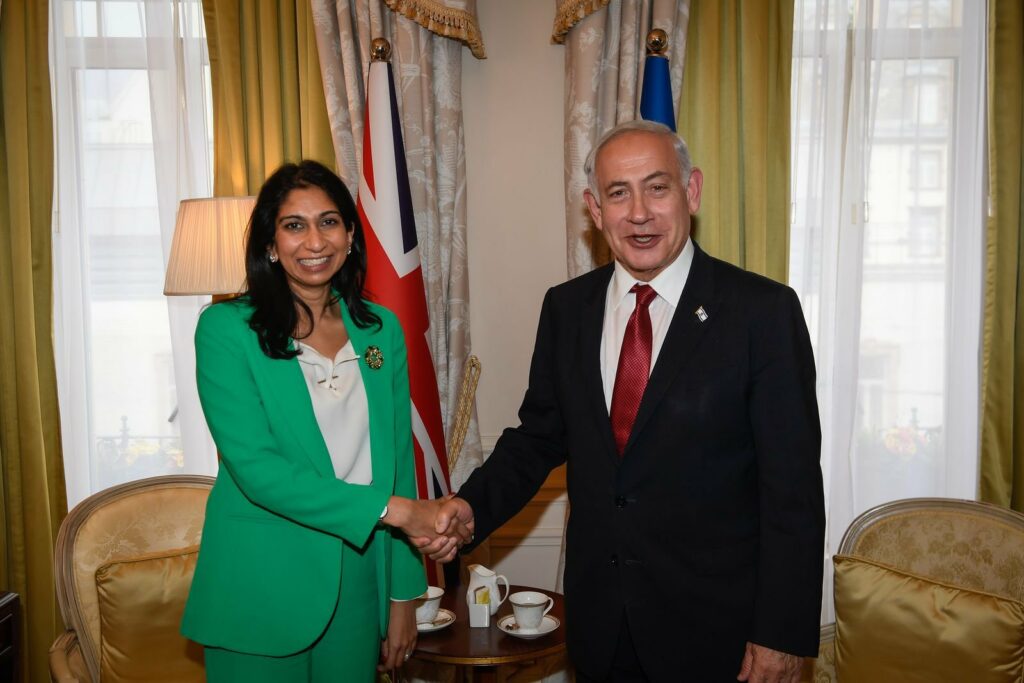 'Comprehensive tour'
On their trip to Israel, Cleverly and Braverman met with Mark Regev, then spokesman for prime minister Benjamin Netanyahu, and deputy national security advisor Eran Lerman.
They were also given a comprehensive tour of Israel's "security wall" by Colonel Dany Tirza, the chief architect of the project. The wall annexed swathes of Palestinian territory and is judged illegal by the UN.
The speed of the trips and trajectory of the MPs in the delegation is symptomatic of the role CFI plays in cultivating British political figures.
Cleverly and Braverman were early in their careers, from ethnic minorities, and new to the world of foreign policy. The trip was about feeding them Israeli positions on the long-running conflict.
OpenDemocracy has previously revealed that CFI is the biggest donor of free overseas trips to MPs. The group took MPs on 155 free trips in the decade from 2012-22. The outlet called it "an unprecedented charm offensive to promote the country in Westminster".
'Highly informative'
It seems to have worked on the two fresh MPs.
Cleverly, then 45, said in a video during his trip that was posted by the CFI: "It's been a real eye-opener. Israel is an amazing country, there's no doubt about that." He added: "Definitely recommend you come and visit."
Meanwhile, Braverman, then 35, said: "I've had a highly informative and educational time here. This is a really important experience for all of us, I think, in terms of the breadth of information we have been exposed to."
She added: "I think CFI is carrying out an invaluable task in educating British politicians."
Eight years later, home secretary Braverman this week called for police to use the "full force of the law against displays of support for Hamas" after its attack on Israel on Saturday.
Meanwhile, foreign secretary James Cleverly said on Monday the UK will "continue to support Israel" after Tel Aviv announced a "complete siege" on the Gaza Strip. 
Collective punishment of a population is a violation of the Geneva Conventions governing the conduct of war. Owing to the UK's close military links with Israel, this could make Cleverly, who has verbally backed the siege, vulnerable to prosecution as an accessory to war crimes.