Sir Keir Starmer, the likely next UK prime minister, spent nearly a quarter of a million pounds of public money on travel expenses during his five years as head of England and Wales' public prosecutor, it can be revealed.
The revelations are sure to embarrass Labour, which recently published a study of spending on UK government debit cards saying this showed the Tories using public money "like a cash machine".
Labour accused the Conservative government of overseeing "lavish spending" on hotels, hospitality and other costs using taxpayer-funded debit cards.
Starmer said last month: "With my Labour government, every pound will be precious".
The current Labour leader served as Director of Public Prosecutions (DPP) for five years from 2008-13. That role, as the head of the CPS, is based in London and not understood to require extensive travel.
"With my Labour government, every pound will be precious."
The CPS prosecutes criminal cases that have been investigated by the police and other investigative organisations in England and Wales.
Yet Starmer's total travel bill for his time in charge of the CPS stood at £236,485, which funded first or business class flights to four continents, including a £6,808 flight to Washington DC and a £4,914 flight to Hong Kong.
In his first 21 months in the job, he also billed £161,273 for the use of a chauffeur-driven car. At the time, Starmer lived in Kentish Town, four miles from the CPS office in central London.
Starmer's on-demand car cost the taxpayer an average of £1,920 a week for nearly two years. While he had access to the car, he billed the taxpayer a further £330 for 13 taxi rides across London.
Starmer stopped using the car in June 2010 soon after an embarrassing story broke in the media.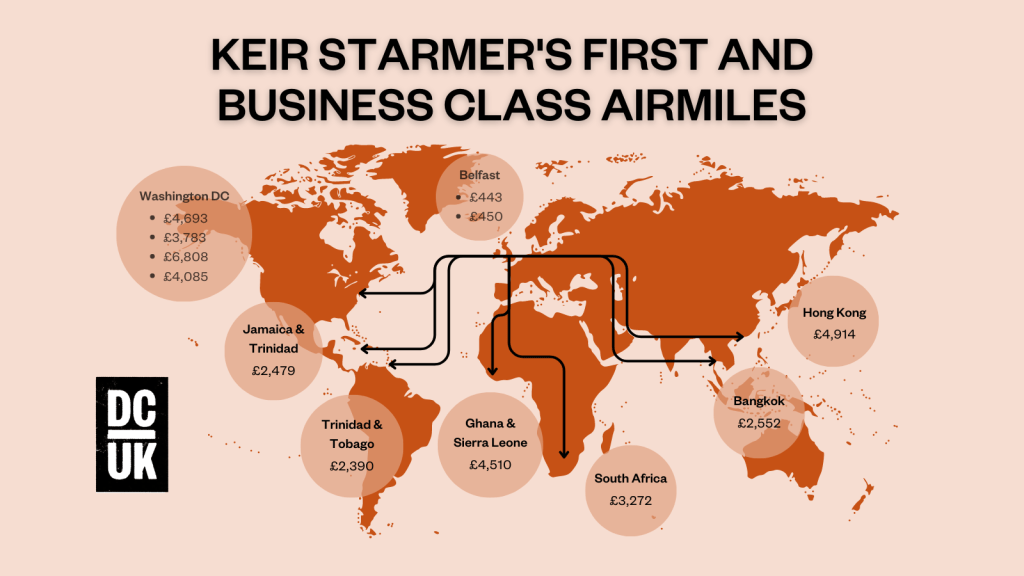 First class flights
Starmer's first flight as DPP was to Belfast in July 2009, billing £443 for the 85-minute business class journey. The following year, he flew to Belfast again at a cost of £450.
During his time as DPP he flew first or business class to Jamaica and Trinidad, Ghana and Sierra Leone, South Africa, Trinidad and Tobago, Thailand, and Hong Kong. The flights for the six trips cost £20,166—an average of £3,350.
Starmer also went on four first or business class flights to Washington DC during his time as DPP.
In November 2009, he billed £4,683 for a flight to Washington DC for a one-day "official visit". In October 2011, he took another flight to the US capital at a cost of £3,783.
In November 2012, Starmer took yet another trip to Washington, billing an extraordinary £6,808 for his flight. His final flight to Washington came in September 2013 and cost £4,085. On this trip, Starmer also billed £1,051 for accommodation and food—and £7.24 for a taxi.
Starmer's four trips to Washington cost the public purse £21,603.
Day trip to Kiev
Starmer also took a large number of first class rail journeys around Britain at the public expense, including a £298 train from London to Wales and a £400 train to Newcastle.
He also billed £1,489 apparently for food on a one-day trip to Kiev, Ukraine, on 10 September 2009, to attend a conference.
Starmer's successor as DPP was Alison Saunders, who served the same five-year term from 2013-2018. Her travel expenses bill from her tenure was £67,340, less than a third of Starmer's.
Starmer earned £200,000 a year over his five years as DPP. By the time he left the CPS in 2013, he had also accrued an extraordinary £336,000 in pension benefits funded by the taxpayer – an average of £67,200 per year.
Keir Starmer did not respond to Declassified's request for comment.
---