The Kenya Wildlife Service, which operates a shoot-to-kill policy against ivory hunters, was advised by a senior British military intelligence officer intimately involved in the conflict in Northern Ireland.
Colonel Colin Parr visited Kenya between tours during the 'Troubles' when he allegedly ran 'Stakeknife' – an informant at the heart of the IRA's internal security 'nutting squad'.
Police are probing Stakeknife's activities amid concerns the British agent was allowed to kidnap, torture and even murder other suspected spies to keep his cover.
In 1985, the Queen awarded Parr an OBE for his "distinguished service in Northern Ireland". And by the early 1990s, he was head of army intelligence in the province.
It can now be revealed that while rising through the ranks, Parr went on a reconnaissance trip in April 1990 to the Masai Mara.
There he inspected Kenyan efforts to save elephants and rhinos. Parr's visit came after Kenya Wildlife Service (KWS) director, Richard Leakey, lobbied hard for UK military support.
Tourism then contributed nearly £200 million to Kenya's economy. Most visitors went on safari, making wildlife protection "critical" for the country.
Leakey wanted KWS to have an "effective but small intelligence unit from which our operations can be planned." He died earlier this month aged 77, after having built KWS into an armed, paramilitary force.
Its rangers are accused of disappearing and killing dozens of innocent Kenyans wrongly suspected of poaching.
Informers
In a report found by Declassified at the UK National Archives, Parr encouraged Leakey's squad to recruit more informers and protect them from reprisals.
"There is a pressing need for operations which are mounted as a result of informant information (and there are many) to be conducted in a manner which does not prejudice the security of the source," Parr advised KWS.
"Recently two informants were shot dead as a result of an insecure link between their information and a consequent operation."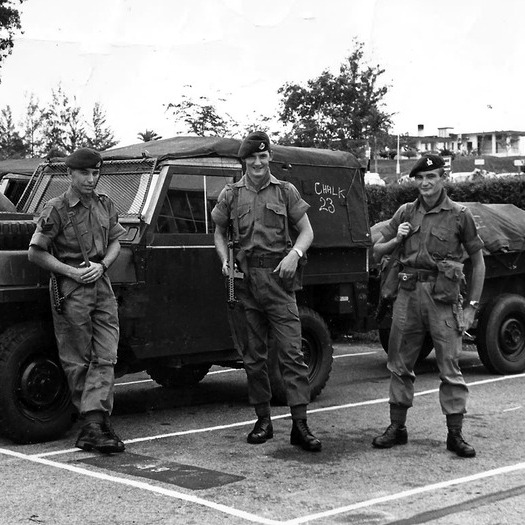 Parr suggested recruiting informers from "villages where bandits have attacked or intimidated and where there may be resentment."
Some of the poachers came from the large Somali community whose land falls inside Kenya.
Parr also suggested the Kenyans receive night vision surveillance gear, training at a spy school in Kent and a six month visit from another army intelligence officer.
He advised: "Detection/arrest/kill ratios only have a prospect of major improvement if they can be based on pre-emptive intelligence."
War crimes
Reacting to our finding that Parr visited Kenya, Belfast-based solicitor Kevin Winters told Declassified: "It should come as no surprise that a very high ranking member of the military intelligence services may have been 'rewarded' in this way for their work during the conflict."
His firm, KRW Law, represents families affected by the Stakeknife mission, which Winters said entailed "the oversight of agents and informants who were involved in killing UK citizens, some of whom may in turn have been informants or agents themselves.
"In any normal democracy people who were at the helm of this type of 'intelligence policing' might have been indicted for war crimes."
Winters commented that Parr's Kenya trip "chimes with Britain's colonial past and if nothing else confirms the systemic exchange of military strategic thinking and resources between the former colonies.
"The North of Ireland in many ways was treated as a colonial outpost when it came to counter terrorism strategy."
National asset
Kenya became independent from Britain in 1963 but UK soldiers continue to train in the former colony.
In 1990, such exercises were conducted "totally free of charge". Some officials feared UK troops would lose this concession if they did not back Leakey's conservation drive.
A British brigadier wrote that assisting KWS would be seen as "in return for the provision of training areas" and "will enhance our position with President Moi", then Kenya's authoritarian leader who ruled until 2002.
One colonel warned in a telegram: "An inadequate response will put an important national asset (our training rights) at risk."
But a colleague disagreed, writing by hand on the telegram that this argument was "crap".
A Ministry of Defence official noted: "We continue to believe that support of the KWS is not directly in the defence interest."
Ultimately the MOD opted to support Kenyan conservation efforts. More recently, the parachute regiment trained KWS rangers.
Anti-poaching is now a normal activity for the UK military. A soldier was crushed to death by an elephant while on patrol in Malawi in 2019.
'Idiot'
Leakey led KWS from its inception in 1990 to 1994 and returned as chairman in 2015.
Leakey told journalists from Vice News to "piss off" when questioned about allegations that dozens of people had been disappeared by KWS rangers.
Asked by Vice "Is there a human price to pay for animal conservation", Leakey told their reporter before stopping the interview: "Of course there is – idiot. You are an idiot."
An MOD spokesperson told Declassified: "The British Peace Support Team (Africa) provides training to the Kenyan Defence Force and other African partners in peace support operations.
"On rare occasions, individuals from the Kenyan Wildlife Service have been allocated places on these training courses. Our training and engagement activities help make communities in Africa safer.
"For reasons of operational security, we do not comment on intelligence roles."
KWS did not respond to requests for comment.
---
---