The Ministry of Defence (MoD) recently told parliament that 11,912 US military personnel are deployed in Britain across seven RAF bases, while 52 are inside the US embassy in London.
But the ministry added that 135 US Department of Defense (DoD) personnel are also permanently based in "multiple" undisclosed locations across the UK.
A further 48 DoD personnel are based at undisclosed locations in London.
These 183 Americans on secret deployments are all part of the US Air Force's 501st Combat Support Wing, which is headquartered at RAF Alconbury in Cambridgeshire.
Its operations include "support communications, intelligence, and global strike operations, in the European theatre and around the world".
Asked for their locations in parliament recently, the MoD replied: "The [American] personnel are based in multiple locations across the UK, but grouped together for administrative purposes."
It added: "This group would include, but not be limited to, personnel on university courses, industry placements or personnel on exchange."
That active-duty US military personnel permanently deployed in Britain undertake university courses and industry placements does not appear to have been publicly stated before. It is possible they are living among the civilian population.
'Security risk'
Asked further if the MoD would provide the locations of the personnel grouped together for administrative purposes, defence minister James Heappey replied: "I am withholding the information requested as its disclosure could place the security of those personnel at risk."
It is unclear why disclosing the locations of these personnel would place them at risk. 
The MoD also recently disclosed the locations of the 150 US personnel who are deployed in Britain with NATO. The majority are based at the alliance's Intelligence Fusion Centre at RAF Molesworth in Cambridgeshire.
Kenny MacAskill, the MP who asked the questions in parliament, told Declassified: "The UK is fast becoming a giant aircraft carrier for the United States. It's not just the over ten thousand personnel we know are at air bases across England. There are others elsewhere, and what are they doing? 183 is still a large number and whilst some may be studying, the role of others is far more concerning."
MacAskill, a former Scottish justice secretary, added: "With war in Ukraine these are worrying times and we should know who is here and what they are doing. We have a right to know everyone who is all on board this USS Great Britain."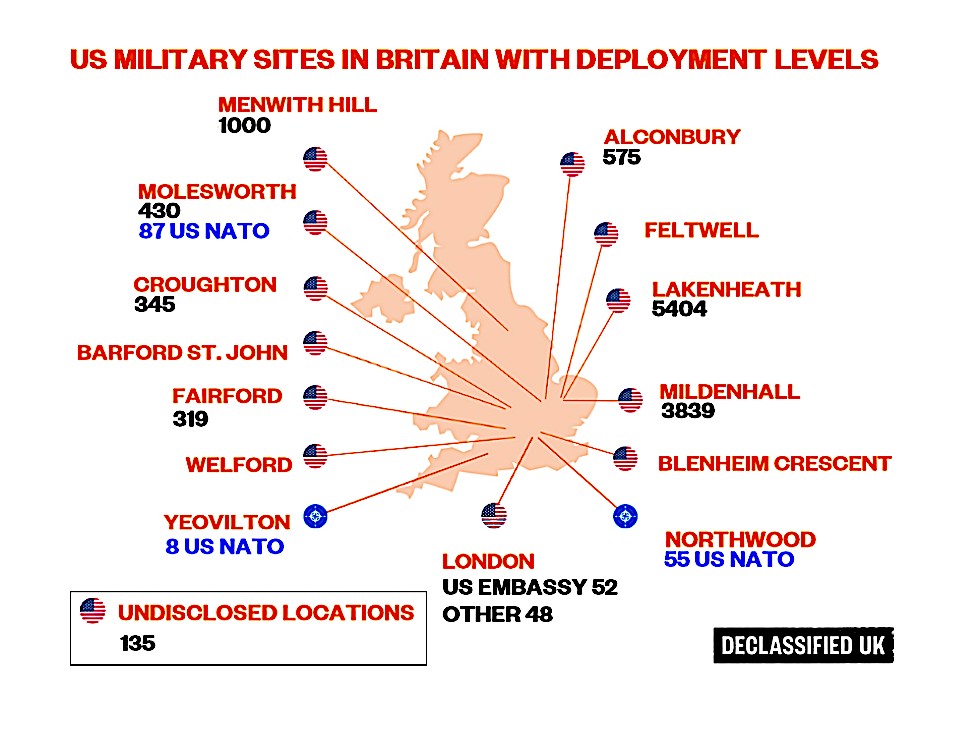 'No comment'
The US intelligence community also has a large but secret presence in Britain. The UK government has consistently refused to divulge even which US agencies are working in Britain, let alone deployment levels.
It is unclear if the UK government is aware of the full American intelligence deployment in Britain.
When asked how many US personnel were based at one site operated by GCHQ, Britain's largest intelligence agency, the Foreign Office replied: "It is the longstanding policy of successive British Governments not to comment on intelligence matters."
The CIA's main base in Britain is RAF Croughton in Northamptonshire which is thought to host a thousand American spies. Croughton provides what is described as "tech support activity" for the US Special Collection Service based at a joint CIA-NSA facility in Maryland.
Meanwhile, the NSA jointly runs GCHQ's installation at Bude, Cornwall, which intercepts communications from transatlantic cables carrying internet traffic. The NSA even paid £15.5m towards developing the site, according to documents leaked by Edward Snowden.
"Securing external NSA funding for Bude has protected (GCHQ's core) budget," one document noted.
Special forces
Another level of secrecy surrounds the likely presence of US special forces in Britain. The US does not disclose the locations of most of its forces operating under the Special Operations Forces Command, or SOCOM.
But during 2020 US special operations forces deployed to 154 countries, or roughly 80% of the world's nations. It is highly likely this included Britain.
Kate Hudson, general secretary of the Campaign for Nuclear Disarmament, told Declassified: "The extent of the US military presence in Britain is shocking, not least because they appear to operate and control a number of military bases without scrutiny or accountability. To discover that there are additional personnel at undisclosed locations – doing who knows what and why – is an additional affront."
Hudson, who sits on Declassified's board, added: "It's time for this to change: parliament must be informed of everything pertaining to the so-called 'special relationship' with the US, and a new transparency established."
Last week, Declassified revealed that 129 US airmen are to be deployed to Britain's territories on Cyprus, after the MoD refused to divulge the numbers.
The UK Ministry of Defence would not provide an on-the-record comment for this article. The US Department of Defense did not respond to Declassified's request for comment and information.
---
---