Britain's exports of military equipment to many of the world's poorest countries are potentially fueling climate breakdown and conflict.
The US-based Notre Dame Global Adaptation Initiative (ND-GAIN) index ranks countries based on their vulnerability and resilience to climate change.
The UK has exported £1.5bn of military and "dual use" equipment (goods that can be used for military purposes) to 39 of the 40 most vulnerable states on ND-GAIN's list since 2008, Declassified has found.
Among the most vulnerable countries are Pakistan and Bangladesh, to which the UK has approved military export licences worth over £750m since 2008.
Armed conflict already affects 40% of the 40 most vulnerable countries on ND-GAIN's list, according to the Geneva Academy.
As the climate crisis worsens, the UK is exporting more weapons than ever, with arms sales reaching a record £8.5bn last year, according to the only publicly available official figures.
The Dèlas Centre for Peace Studies, which is headquartered in Spain, warns that arms sales run the risk of triggering or worsening conflicts, repression, and human rights violations for populations most affected by climate change.
Climate change and war
The United Nations warns that climate change will intensify resource competition and create instability. Miroslav Jenča, UN Assistant Secretary-General for Europe, Central Asia and the Americas, has said: "Climate change exacerbates existing conflicts and is likely to create new ones."
The UK's Ministry of Defence also predicts environmental emergencies leading to civil unrest, governance breakdown, poverty, and mass migration.
Britain is also one of the ten nations with the greatest historical responsibility for the climate emergency.
The country that ranks number one on ND-GAIN's vulnerability index is Somalia – to which the UK has approved exports of military and dual-use equipment worth £36m since 2008.
This is despite Somalia being subject to a partial UN arms embargo for the last 30 years, an ongoing civil war, and a recurring place on the UK Foreign Office's top 30 most concerning countries for human rights.
Somalia has seen millions displaced due to drought and conflict in recent years. "Somalis, who have done almost nothing to create the climate crisis, are suffering its terrible impact", said Antonio Guterres, UN Secretary-General, in April.
UK exports of military equipment since 2008 to the 40 most
climate-vulnerable countries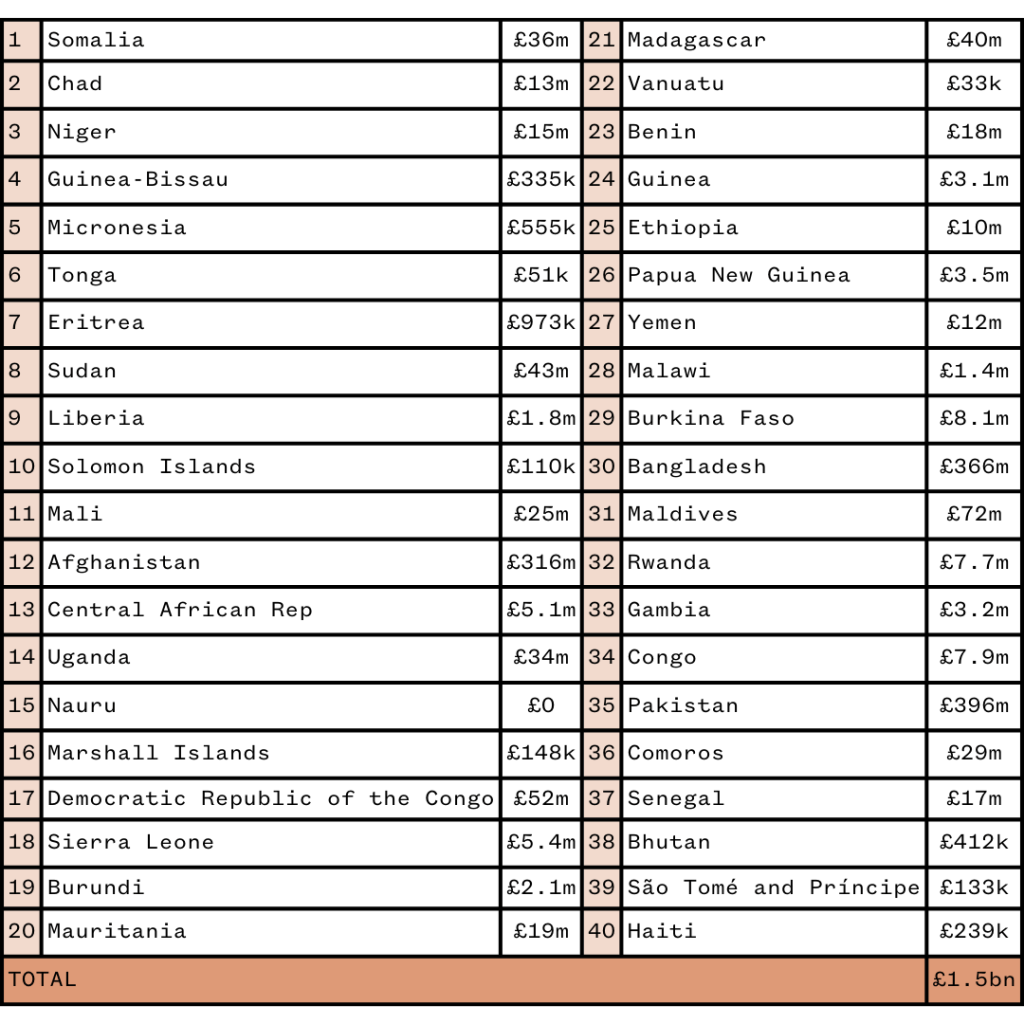 Misspent money
Arms exports to climate-vulnerable countries also divert financial resources and attention needed to mitigate and adapt to the consequences of what the UN describes as the "biggest threat modern humans have ever faced."
The war in Ukraine has shown that military objectives are already diverting resources from climate finance. In June 2022, the UK shifted money from its climate finance budget as part of a £1bn military aid package for Ukraine.
War also contributes to the climate crisis. In a 2020 report, the UK Ministry of Defence noted that "more conflict in itself will damage the planet [as] those involved in conflict will not be able to focus on the climate, and instead will be creating more emissions whilst in conflict."
The arms industry also has a significant environmental impact, notes the Dèlas Centre, "from the extraction of raw materials, through to production by arms companies, their use by armed forces, decommissioning and end-of-life disposal."
The Food and Agriculture Organization of the UN warns that conventional weapons, land mines, and improvised explosive devices leech heavy metals into the soil. The manufacturing and testing of weapons are also responsible for soil pollution.
In the Near and Middle East, armed conflict has caused agricultural land degradation, damage to water infrastructure, pollution, degradation of and damage to protective infrastructure.
The "combination of environmental degradation, climate change and armed conflict can create effects that interact and potentially reinforce each other," a report by the Norwegian Red Cross concludes.
But the British government appears to deny responsibility for the environmental consequences of its arms industry.
When in 2019 the Ministry of Defence was asked for its assessment of the environmental impact of weapons manufactured and sold by the UK, its response was that "any environmental impacts resulting from their use would be the ultimate responsibility of the end user."
Bangladesh and Pakistan
While many of the most vulnerable and least climate-resilient countries are small states, such as Guinea-Bissau, Eritrea or Micronesia, the list also includes large arms purchasers such as Pakistan and Bangladesh.
Since 2008, the British government has approved military export licences worth £366m for Bangladesh and £386m for Pakistan.
Bangladesh, one of ND-GAIN's 40 most climate-vulnerable countries, was invited to shop for weapons at the UK's DSEI arms fair in 2021 and 2019. The country was listed by the UK government's arms sales unit as one of its key markets for 2019/20.
In recent years, British authorities have sold Bangladesh surplus Lockheed Martin military aircraft.
Pakistan, which contributes less than 1% of global carbon emissions, and is ranked as "extremely vulnerable" on environmental impacts, is particularly susceptible to food and water scarcity.
The UK funded a report in 2019 that highlights how environmental change has already contributed to conflicts over land and fish resources in Pakistan, while poor planning and the inadequacy of state responses to unprecedented flooding have led to protests and social unrest.
Training and repression
Between 2018 and 2020 alone, the UK provided military training to 17 of the ND-GAIN index's 40 most climate-vulnerable countries.
Seven states that received training featured on the Foreign Office's "Human rights priority countries" list in 2019, 2020, and/or 2021. Both Bangladesh and Pakistan have also received extensive UK military training in recent years.
Many of the most vulnerable countries to which the UK sells weapons are involved in armed conflicts or are governed by authoritarian regimes.
Under domestic repression, climate emergency-related conflict can have more impact than otherwise. "The likelihood of climate change causing conflicts is much greater if the response to extreme weather events and their social impacts is militarised and repressive," concludes a report by the Transnational Institute.