Britain's flagship petroleum corporation BP pumped more than 5.5 billion barrels of Russian oil during the rule of Vladimir Putin, after his regime approved BP's purchase of a host of lucrative assets, Declassified has found.
The oil was pumped between 2002-20 and was worth in excess of £271 billion based on average prices during the period.
Production increased markedly in the years following Putin's illegal annexation of Crimea from Ukraine in 2014. It reached a record high of 955,000 barrels a day in 2019, the year after the Salisbury poisonings.
BP's oil operations in Russia constituted 44% of its global production between 2015-20, and therefore contributed substantially to the corporation's profits. Last year, the company reported profits of £9.5 billion.
But BP said last month it would be exiting its businesses in Russia in protest at Putin's invasion of Ukraine, calling it an "act of aggression which is having tragic consequences across the region". The company stands to lose $25 billion.
In a 2019 meeting with BP's then chief executive Robert Dudley, Putin had told him: "BP is a major investor in the Russian economy: over $17 billion," adding, "We regard you as a reliable strategic partner; we have always assisted you in doing business in Russia, and we will do so in the future."
Putin added: "I would like to discuss with you the possibilities and prospects for further cooperation," adding BP's projects in Russia looked "interesting, important and promising."
In the meeting, which took place the year after the Salisbury poisonings, Dudley told Putin: "I would like to thank you for your support of the company and BP's business over the years. It is very important for me to thank you from the perspective of BP."
Russia accounts for 11% of global oil production, pumping 10.5 million barrels a day, behind only the US and Saudi Arabia.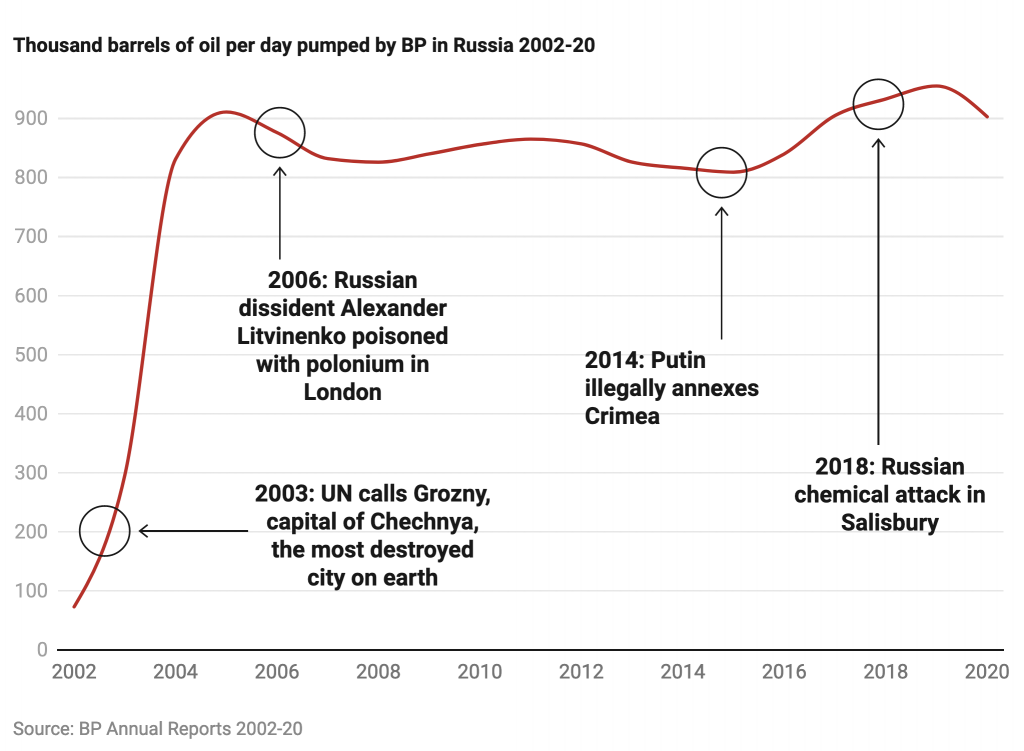 'Blessed by Putin'
BP has long been close to the British state, including its external intelligence agency MI6.
The former head of MI6, Sir John Sawers, joined the board of BP in 2015, the year after he left the intelligence agency. He was paid £699,000 by the company over the next four years.
In its 2020 annual report, BP said Sawers' "deep experience of international political and commercial matters is an asset to the board in navigating the geopolitical issues faced by a modern global company."
It added: "Sir John's unique skill set made him an ideal chair of BP's geopolitical committee."
In its evidence for a parliamentary report on Russia, MI6 stated there exists a "very muddy nexus between business and corruption and state power in Russia".
Developing relationships with Putin and his inner circle appears to be vital to operating in Russia. According to a leaked 2009 US cable sent from Moscow, one BP partnership with a state-owned company was "blessed…by Putin himself".
---
---
In a 2007 Mail on Sunday article, which was subsequently taken down, a company whistleblower claimed "BP was working closely with MI6 at the highest levels to help it to win business in the region [Russia and former Soviet republics] and influence the political complexion of governments."
Renegade former MI6 officer Richard Tomlinson wrote in his 2001 memoir that BP has "MI6 liaison officers who receive relevant CX [intelligence]".
There is evidence British intelligence officers have used relationships developed in service to profit with BP afterwards.
Former MI6 head of counterterrorism, Sir Mark Allen, also joined BP after leaving service, helping the company to negotiate a £15 billion oil drilling contract with Muammar Gaddafi, the then Libyan dictator.
Allen had developed a relationship with the Gaddafi regime while in MI6. He was investigated for his role in the snatching and transfer of a Libyan couple to the north African country in 2004.
Blair Petroleum
John Sawers, who was head of MI6 from 2009-14, was a foreign policy adviser to prime minister Tony Blair when the latter began an intense lobbying campaign on behalf of BP in 1999.
The company's business interests were apparently at the heart of Blair's efforts to get close to Putin at the start of his premiership in Russia.
Before its recent exit, BP had operated in Russia for more than 30 years after opening its representative office in Moscow in 1990 with its first branded retail station inaugurated in 1996.
But BP's first major move into Russia came in 1997 when it purchased a 10% stake in Sidanco, then Russia's fourth largest oil company. The stake, bought from Vladimir Potanin, a businessman who was then a Kremlin insider, cost $484 million.
The 1998 "ruble crisis" the following year, which saw the Russian government default on $40 billion in debt, pushed Sidanco into bankruptcy.
Tony Blair personally intervened soon after, writing a letter to Vladimir Putin, describing BP's assets as "an important British interest in Russia".
He pointed out he was taking a "close personal interest" in the dispute and said "the case is being closely followed by other major foreign investors in Russia".
At the time, BP declined to say whether it had asked Blair to intervene. "You will have to ask Number 10 why they sent it," said a company spokesman about the letter.
Declassified previously revealed Blair lobbied Putin for BP regarding Sidanco when they met in March 2000. After an appeal by Russian intelligence in London, Blair had been sent by MI6 to St Petersburg to help Putin get elected in the imminent Russian elections.
Sidanco's bankruptcy "highlighted the problems faced by foreign investors", a UK government briefing document noted. It added: "A deal was cut in December [1999] enabling BP… to hold their stake in Sidanco and begin implementation of the recovery plan to release Sidanco from bankruptcy."
"There is still a long way to go and all will need to keep working for it," the document continued, before concluding: "Russian government support will be vital."
Sidanco was eventually saved and in 2002, BP increased its stake in the company to 25% for a further $375 million.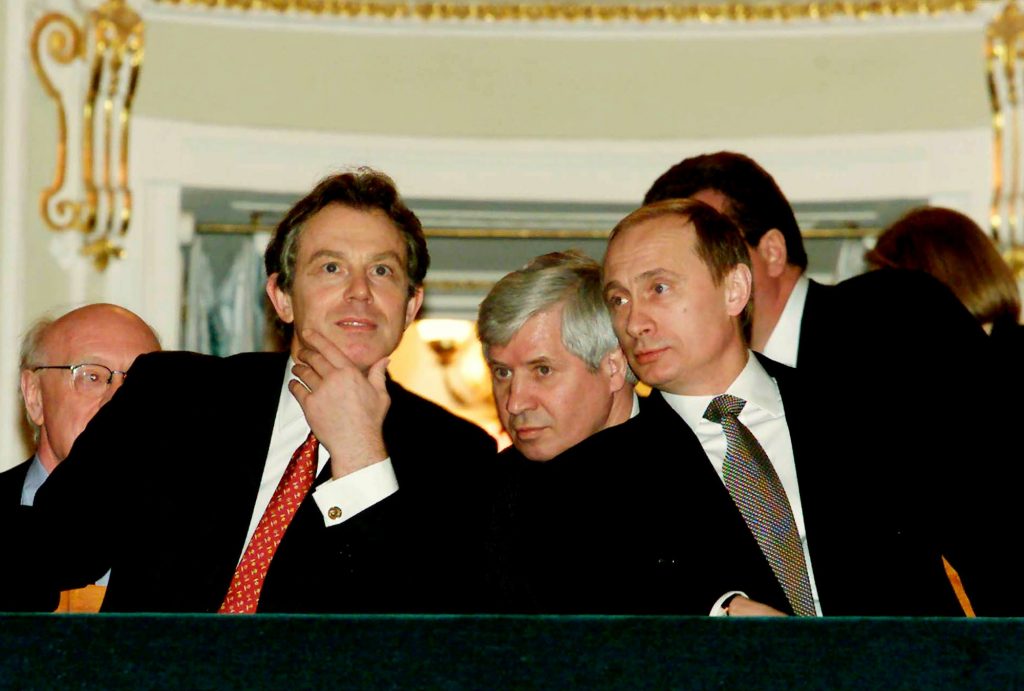 Horse-drawn carriage
But the real game-changer came in 2003, after Putin had been in power for three years. In June of that year, Putin made the first state visit by a Russian leader to the UK since 1874, traveling through London in a horse-drawn carriage with the Queen.
Two months later, the Russian government approved BP's merger with TNK in a deal worth $6.75 billion, the largest ever foreign investment in Russia. It established a new oil company, TNK-BP, which would be Russia's third largest.
The Guardian noted at the time: "The prime minister Tony Blair and Russian president Vladimir Putin were closely involved in the signing of this week's groundbreaking deal between BP and TNK."
The paper added: "All of this underlines the close links between Big Oil and politics, while confirming more particularly the way Mr Blair and BP have a working arrangement that has led to the company being dubbed 'Blair Petroleum'."
According to a July 2009 US diplomatic cable, BP Russia president Jeremy Huck told the US ambassador privately that TNK-BP was performing "extremely well".
He said "this is a message that BP has not adequately publicized, but also agreed with the Ambassador that it is perhaps a message that does not need to be emphasized lest it draw unwanted attention to BP."
According to Huck, BP received up to $3 billion in shareholder dividends from TNK-BP in 2008 alone, and about $11 billion "free cash flow" over the previous six years.
The final chapter in the BP story in Putin's Russia came in 2013 when BP sold its stake in TNK to Rosneft, Russia's state-owned oil company. BP was left with a 19.75% stake in Rosneft, which accounts for around half of the British company's oil and gas reserves.
The deal had the "blessing" of Putin, according to the BBC. "This is a good, large deal that is necessary, not only for the Russian energy sector but also the entire economy," the Russian leader said.
Another US cable, this time from June 2008, revealed an American investment banker telling US officials that a "partnership" between state-owned gas company Gazprom and BP "had been blessed at the highest levels of the Russian Government, by Putin himself."
BP, Sir Tony Blair and Sir John Sawers did not respond to requests for comment.
---
---