Whilst a storm was brewing in the spring of 2020, a dozen activists met in a rural village in England to plan the launch of Palestine Action. It seemed like a sign that the river close by burst its banks and threatened to flood our meeting place.
Many of us already felt engulfed by a storm of Israeli propaganda, false political turns that led solely to dead ends in promoting the rights of Palestinians, and a growing fear that we weren't doing enough in Britain to stop Israel's arms trade.
However, those rising waters also signified the potential for public action to steer a new course, one which was blazed by Extinction Rebellion's civil disobedience campaign to promote action against climate change.
This illustrated the hope in us that a similar movement could be created in solidarity with the Palestinian people.
"One thing united us all – a desire to ultimately stop Israel's arms trade."
Our group was diverse. Some like myself had taken up a variety of tactics to try and get an embargo imposed on the arms trade between the UK and Israel. This included lobbying MPs, starting petitions and hosting rallies.
Others came from an environmental background who had grown increasingly outraged over the years by Britain's growing complicity with Israel's apartheid system.
Mostly, we were disillusioned with the UK's political system as a vehicle to change its imperialist policies.
But one thing united us all – a desire to ultimately stop Israel's arms trade whilst mobilising local communities around the weapons plants and engaging the wider movement practising civil disobedience sweeping across Britain.
Our mandate was clear: to build a sustained direct-action movement capable of kicking Israel's arms trade out of Britain. With a mission to complete, Palestine Action was launched in July 2020.
Elbit's attacks on Palestine
Palestine Action's only target is Elbit Systems, Israel's largest arms firm which develops airborne, land and naval systems and products for the Israeli and other militaries, including Britain's.
Beginning its deadly trade in 1966, Elbit was born out of a necessity to maintain Israel's domination over historic Palestine, which required technology to surveil and attack the indigenous Palestinian population.
Over the following decades, Israel expanded its brutal control over the occupied West Bank and Gaza strip, the latter which became the world's largest open air "prison-camp", as described even by then prime minister David Cameron.
Having a captive population in Gaza under a brutal land, air and sea blockade proved lucrative for Elbit Systems. Some of its weapons are described as "combat-proven" having been used in assaults on the occupied territory.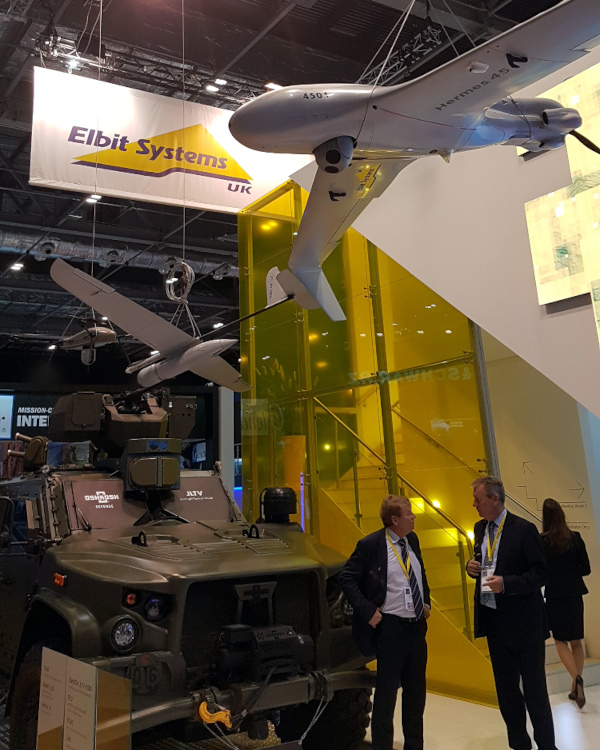 Elbit provides approximately 85% of Israel's military drone fleet. The company's earlier models of drones, including the Hermes 450, were used heavily in Israel's attack on Gaza in 2014, which saw 2,200 Palestinians killed in the space of 50 days.
Seven years later, in May 2021, during Israel's deadly 11-day assault on Gaza, such drones led the way in attacking Palestinian families, including children. Even a media tower was struck down live on TV channels.
The Times of Israel reported that, in an "apparent world-first", a swarm of AI-guided drones operated as a single unit, requiring only one operator behind a screen, rather than multiple single units of drones controlled by separate operators.
The mob of drones used in Israel's attack contributed to wiping out every member of 20 families in Gaza, Israeli newspaper Haaretz reported.
Not only did Elbit provide the technology, its personnel worked alongside Israel's military to conduct over 30 strikes in the May 2021 conflict, an Israeli military general disclosed.
Elbit in the UK
With a thirst for increased profits, Elbit over the years expanded its reach to Israel's strategic ally, Britain.
With an injection of cash from its parent company in Israel, Elbit's strategy has involved acquiring existing companies to build up the 'Elbit Systems UK' portfolio, Israeli economic researcher Shir Hever notes.
The corporation's presence in Britain now consists of six subsidiaries operating out of ten sites across England and Wales. Its factories span across British villages and towns in counties such as Staffordshire, Leicestershire and Kent.
Elbit's products include drone components, artillery, target acquisition technology and naval command systems and more. In the UK, the corporation says it produces a "range of different technologies for both military and civilian applications".
"Elbit sells the weapons used on Palestinians to the UK's MOD."
This includes delivering a drone programme for the British army called Watchkeeper. This is a longstanding project with another arms company, Thales, for which the UK Ministry of Defence (MOD) is paying £1.2bn to build new WK450 drones, modelled on the Hermes 450.
The joint Thales/Elbit contract led to the formation of UAV Tactical Systems in Leicester, and its website claims the WK450 has operated for over 100,000 hours in Afghanistan and Iraq.
Following the assault on Gaza in 2021, Israel faced criticisms of the precedent set by its first use of drone swarms. However, the UK government was unfazed, and in March 2022 contracted Elbit Systems UK to provide five drone swarms, comprising six drones each, to the MOD.
Thus in addition to exporting military equipment to Israel from British soil, Elbit sells the weapons used on Palestinians to the UK's MOD.
The RAF and Elbit
The cooperation with the UK goes deeper. Elbit and US arms company, KBR, have established a joint venture called 'Affinity Flying Services', which operates out of three Royal Air Force (RAF) sites: RAF Cranwell and RAF Barkston Heath in Lincolnshire, and RAF Valley in Anglesey.
The partnership maintains three fleets of aircraft for the British military and trains its pilots. In January 2022, Boris Johnson paid an "unannounced" visit to RAF Cranwell in Lincolnshire, marking six years of maintenance operations.
Taking advantage of Britain's quest to "become the first military service in the world to register and certify a zero-carbon aircraft", Affinity Flying Services has also started battery-powered flight tests for the MOD.
In addition, Elbit recently won a £123m contract to train Britain's nuclear submarine crews, despite Israel's secrecy over its own nuclear weapons programme.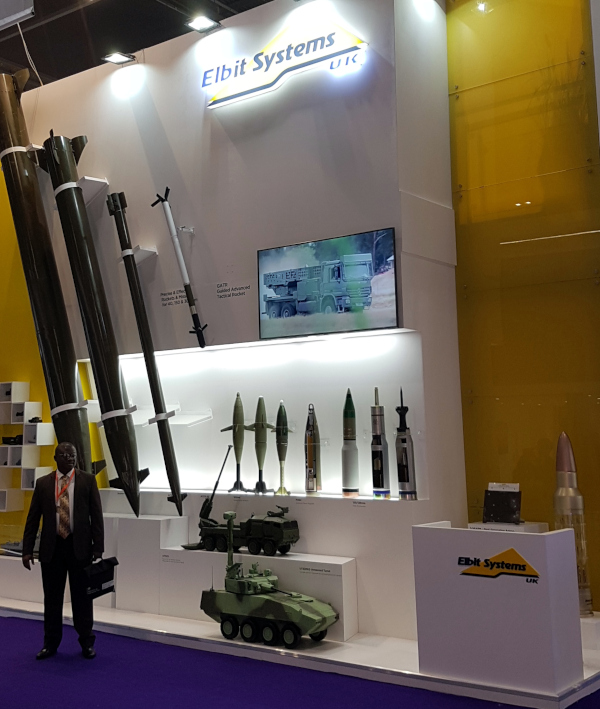 Protests
Since Palestine Action's launch, people have every day stepped up to the plate to take direct action against Elbit's sites across Britain. Activists have blockaded entrances, climbed onto the roof of Elbit's sites, stormed its plants and dismantled its premises, machinery and military components, from inside and out.
In a powerful show of solidarity, members of the Fire Brigades Union have consistently refused to remove Palestine Action protestors, despite police requests to do so.
The consistent disruption of Elbit's military production is a bid to make it untenable for Israel's arms trade to continue its deadly operations on British soil.
Almost always, Elbit's sites are left drenched in blood-red paint, symbolising the bloodshed of the Palestinian people massacred by Elbit's weaponry. Not only do such actions disrupt and often damage Elbit's sites, they also make it impossible for arms factories to hide in plain-sight.
Often, such actions have led to demonstrations in local communities. For Palestine Action, every moment an Elbit site is forced to close is a triumph for the Palestinian cause.
The group's rise has been resisted by the British authorities and Elbit itself. Following a meeting in August 2020 between foreign secretary Dominic Raab and Benny Gantz, Israel's defence minister, many attempts have been made to stop Palestine Action's activities.
These include over 150 arrests, and countless raids and violent attacks by British police and Elbit's security.
Two co-founders of our group, including myself, were charged last year with "blackmail", an unprecedented move to suppress protest activity. During raids on our homes our passports were confiscated, only to be later returned at a court hearing.
Moreover, Palestine Action has been removed from over eight third-party platforms, including Facebook, Mailchimp, Paypal and Donorbox. This de-platforming has followed threats from Elbit's lawyers, as admitted by the fundraising page, Chuffed.
---
The courts
However, Palestine Action often embraces the obstacles we face, as part of the path to undermine Israel's war machine. We have gained significant victories in the British courts.
Last December 2021, a British judge acquitted three activists, despite their openly admitting to throwing bottles of red paint and blockading the front gates of Elbit's drone engine factory in Shenstone.
Judge Marcus Waite ruled the actions taken were a proportionate response to Elbit's activities, stating: Palestine is an important issue, the arms trade is an important issue, the defendants believed in what they were doing, and the location was specifically chosen.
To date, not a single activist who has undertaken direct action against Elbit's sites in the UK has been convicted.
Actions have also led to the closure earlier this year of Elbit's subsidiary, Ferranti Technologies, in Oldham, Greater Manchester. This followed frequent occupations and significant damage to the site, alongside regular community mobilisation.
The sustained campaign left Elbit in Oldham with only one option: to leave – a strategy Palestine Action plan to replicate across Elbit's remaining sites in Britain.
---
---