After Vladimir Putin became president of Russia in 2000, the number of export licences granted by the UK government for equipment with potential military use jumped 550% over six years, Declassified has found.
At the time, Putin was waging a brutal war in the breakaway province of Chechnya in Russia's North Caucasus, involving atrocities which were condemned by human rights groups around the world.
Many of the campaign's tactics were analogous to Putin's current attack on Ukraine, with the Battle of Grozny in 2000 similar in ferocity to the ongoing assault on Mariupol.
The British weaponry was part of a wide-ranging charm offensive British prime minister Tony Blair conducted with Putin until he left office in 2007. The basis of it was securing Russian oil for UK corporation BP.
To export equipment with potential military use, the UK government must grant a licence, the most common of which is the Standard Individual Export Licence (SIEL).
In 1999, the year before Putin became president, the number of SIELs granted to Russia was 20. By 2006, Tony Blair's last full year as prime minister, the number of SIELs granted for Russia stood at 114. That same year, 26 "open licences" were also issued for Russia.
Open licences allow unlimited exports of specific equipment to countries over a long period of time or even indefinitely. These licences do not have any financial value or quantities specified.
From 2000-6, Russia was granted UK export licences for equipment worth £135m, but due to the open licences this figure is likely to be significantly larger.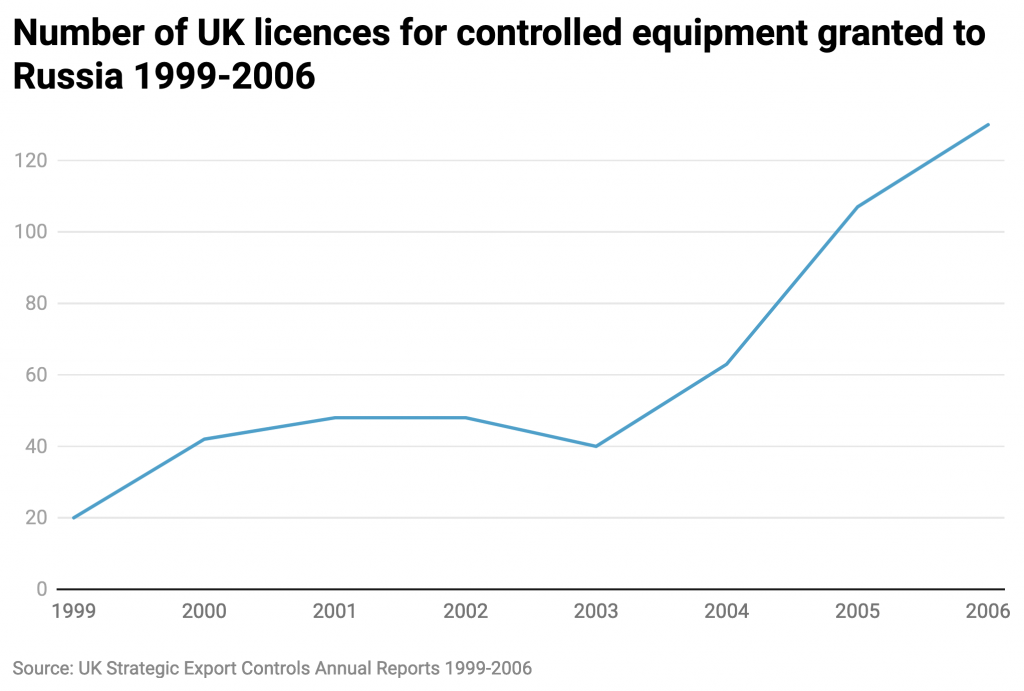 These exports included sensitive equipment such as software for the development of nuclear reactors alongside materials containing depleted and enriched uranium.
Weapons exported to Putin's Russia in the period also included small arms such as shotguns, assault rifles, revolvers, and semi-automatic pistols. Components for heavy weaponry such as surface-to-air and air-to-air missiles and military utility vehicles and explosives, were also approved.
Only ten applications for licences from Russia in the period, or 2%, were refused by the UK, according to official records.
The year after Putin came to power, in 2001, Blair's government even arranged "export control awareness seminars" for officials from four countries, including Russia, focusing on their "specific operational needs".
Samuel Perlo-Freeman, research coordinator at Campaign Against the Arms Trade, told Declassified: "The devastating bombing campaigns that Putin is unleashing on Ukrainian cities were first tried and tested on Grozny. But in contrast to today, the UK government under Tony Blair supported these atrocities as anti-terrorism, and assisted them with arms supplies."
He added: "While geopolitical relations have shifted, the willingness of the UK to arm autocratic regimes when it suits its interests, even as they destroy cities and slaughter civilians, has not, as its continuing support for the brutal Saudi war on Yemen shows."
---
---
Atrocities
Vladimir Putin, a former KGB agent, became Russia's prime minister in August 1999. In the same month, his government began an air campaign in Chechnya, with the stated aim of wiping out separatist Islamist militants.
In September, a series of terrorist attacks on apartment buildings across Russia killed more than 300 people, and helped Putin solidify his grip on power. Some have speculated that Putin himself was behind the attacks.
The following month, Putin announced that Russian troops would initiate a land invasion of Chechnya. The resulting war would continue for a decade and become notorious for its ferocity and widespread human rights abuses.
Putin was promoted to acting-president on New Year's Day 2000 and immediately atrocities in Chechnya picked up. The next month, Russian forces bombed the village of Katyr-Yurt, including a civilian convoy under white flags, killing 363 civilians.
Close relationship
The close relationship between the UK prime minister and Russian president began weeks later when Blair made a whistle-stop visit to St Petersburg to help Putin get elected in Russia's upcoming presidential election.
The Guardian reported: "Amid widespread reports of Russian atrocities in the Caucasus…the British prime minister's visit attracted withering criticism from human rights activists." It added: "The move was also certain to be exploited as valuable campaign material by Mr Putin's election strategists."
Mr Blair was unapologetic about the visit. "We have always made clear our concerns over Chechnya and any question of human rights abuses there, though it is important to realise that Chechnya isn't Kosovo," he said, before adding: "The Russians have been subjected to really severe terrorist attacks."
Declassified has previously revealed that Foreign Office notes made for Blair's 2000 visit to St Petersburg did not mention the war in Chechnya, with Blair instead asked to lobby on behalf of BP.
Human Rights Watch said of Blair's trip: "This is absolutely the wrong signal to be sending…at a time when war crimes are being committed with impunity by Russian forces in Chechnya."
The group added: "There are mass executions of civilians, arbitrary detention of Chechen males, systematic beatings, torture and, on occasion, rape. There is the absolutely systematic and rampant looting of Chechen homes by Russian troops; these acts need to be condemned publicly in the strongest terms."
---
'A strong and modern Russia'
After winning the March 2000 election, Putin made London his first port of call the following month. The Independent noted that the visit was Putin "rewarding" Blair's stance on Chechnya, adding the British prime minister's "rush to embrace Vladimir Putin has been risky and almost indecent in its haste".
An AFP report titled "Putin zips through London winning support from Blair despite Chechnya" noted: "Putin was warmly welcomed by Tony Blair, the British prime minister rolling out the red carpet for his guest at Downing Street. The Russian leader also gained an audience with Queen Elizabeth II and even found time to court British business leaders and urge them to invest in his new Russia."
Around 150 demonstrators gathered opposite Downing Street as Putin arrived by car to the red-carpet reception. A delegation from Amnesty International carried placards reading: "End Human Rights Abuse in Chechnya" and "Don't duck Chechnya Tony".
"Vladimir Putin is a leader who is ready to embrace a new relationship with the European Union and United States," Blair said. "He wants a strong and modern Russia and a strong relationship with the West…I want Russia and the West to work together to promote stability and peace."
Blair added: "There is no doubt at all that he talks our language on reform."
'My job as prime minister'
A year later, Russian investigative journalist Anna Politkovskaya was in London and went to an event at the London Press Club which Blair also attended.
Politkovskaya, who was publishing groundbreaking work on Russian atrocities in Chechnya, used the opportunity to question him as he sat at his table with his spokesman Alastair Campbell. "The response of the Prime Minister of Great Britain to my inquiry regarding the nature of his affection for Putin was brief but comprehensive," she wrote.
"He replied, 'It's my job as Prime Minister to like Mr Putin.' And that was that. What more was to be said?" Politkovskaya was later murdered in a contract-style killing in 2006.
'It's my job as Prime Minister to like Mr Putin.'
In December 2001, Putin was in London again as his war in Chechnya continued. This time, Blair was even more robust in his defence of the Russian leader's military operation. The Daily Telegraph published an article titled "Blair supports Putin's war against Chechnya".
It noted that Blair "delighted the Russians" by drawing a parallel between a terrorist atrocity in Moscow and the September 11 attacks. Blair's comment, the paper noted, "was calculated to bolster Russia's President, Vladimir Putin, in his battle to tame the rebellious Chechen republic on Russia's southern border."
An agreement was even struck between Putin and Blair "to create a working group in which MI6 officers will sit down with their old adversaries in Russian intelligence to exchange information on world terrorism."
'Important that we support Russia'
The high point of Blair's support for Putin's war in Chechnya came in June 2003 when the Russian president was invited for the first state visit of a Russian leader to Britain since 1874.
Human Rights Watch again called for Blair to press for an end to abuses and to ensure accountability for those implicated in rights violations.
The group said the situation in Chechnya was worsening at the time of Putin's visit, with 60 people being "disappeared" every month. Russian officials had also recently admitted the existence of 49 mass graves, containing the remains of almost 3,000 people.
In the build up to the visit, Blair had said he would mention Chechnya in the talks, but added, "It's also important that we support Russia in her action against terrorism."
However, the Foreign Office told Declassified it has no briefing notes from Putin's state visit to the UK in 2003, so it is impossible to know if Blair did indeed bring up the war in Chechnya.
At the time, British officials admitted that "oil, gas and long-term energy strategy lie at the root of British Prime Minister Tony Blair's extraordinarily dogged courting of Russian leader Vladimir Putin".
Two months after Putin's state visit to Britain, his government approved BP's merger with Russian company TNK in a deal worth $6.75 billion, the largest ever foreign investment in Russia. It established a new oil company, TNK-BP, which would be Russia's third largest.
Blair's courting of Putin as the war in Chechnya raged continued right up until he stepped down as prime minister.
In 2006, the Times noted: "Tony Blair has lavished constant praise on President Vladimir Putin. They have been filmed in softly lit venues in London and Moscow. They have exchanged presents. Their wives have been photographed out together. Blair has mentioned him with affectionate warmth."
Later the same year, Blair's last full year as prime minister, it was reported that Blair had again "failed to confront" Putin over his human rights record.
Sir Tony Blair did not reply to a request for comment.
---
---