At least nine properties in London and the south of England with a combined value of approximately £80m are owned by Oman's elite, Declassified has found.
While some may be legitimate investments, others could have been purchased from the proceeds of corruption in the authoritarian Gulf kingdom.
The finding follows the forcible disappearance of three businessmen in Oman who were arrested by secret police in August for staging a peaceful sit-in.
Hani al-Sarhani and his colleagues went missing for nearly two months after producing a viral YouTube video complaining that new taxes were unaffordable.
But while ordinary Omanis struggle to pay their bills, their rulers purchase palatial holiday homes abroad. Yesterday we revealed that Oman's royal family owns Wonham Manor, a mansion in Surrey worth approximately £28m.
The estate was in the hands of the Sultan's family by the 1980s and does not appear on the UK government's new database of property owned by foreign entities and oligarchs.
The register does however reveal that Oman's government, effectively the Sultan, owns 35 Upper Brook Street, a grade II listed building in Mayfair.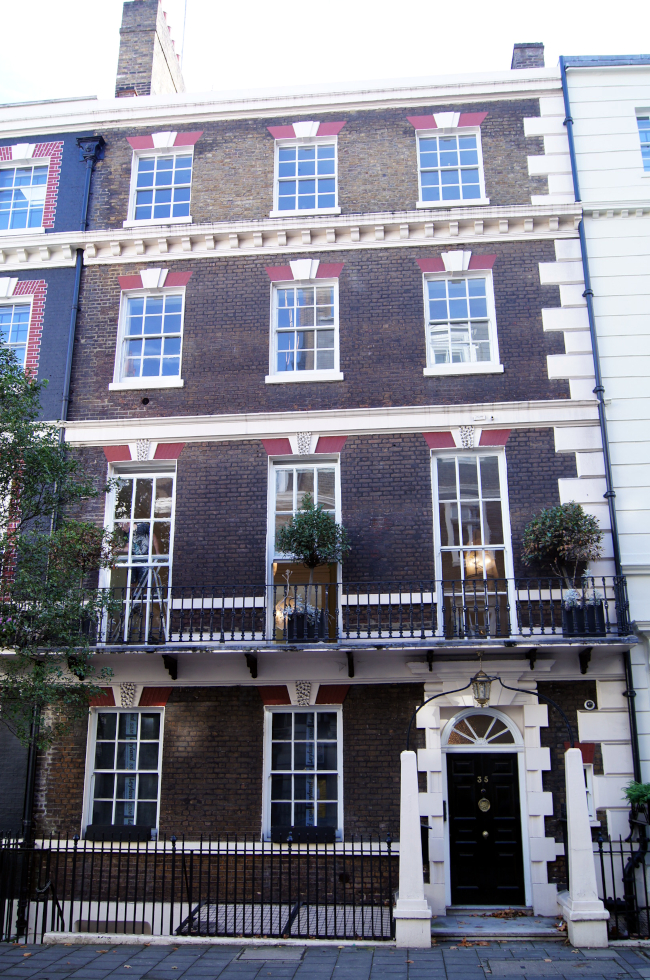 The four storey terraced house was valued at £4.5m last year. Oman has owned the leasehold since 1984.
Previous owners include Guy Whittington Landon, brother of British army officer Tim Landon, the so-called 'White Sultan of Oman' who made a fortune helping the Gulf regime crack down on dissent in the 1970s.
When Declassified visited the property it was being redecorated and had apparently just been sold on – although the Land Registry still shows it as belonging to Oman's government.
Keeping it in the family
The Sultan's spymaster, General al-Naamani, paid former England football captain John Terry £16m for a palatial property in Surrey in 2014.
The nine bedroom White Lakes estate in Cobham is now worth an estimated £25m.
Al-Naamani, who played a key role in a crackdown on anti-corruption protesters last year, also appears to have purchased a luxury London flat in his oldest son's name.
Land registry records show the flat in Chelsea's Cadogan Court complex was bought in 2017 for £6.2m.
He was not at the property when Declassified visited and the flat appears to be rented out to tenants through a letting agency.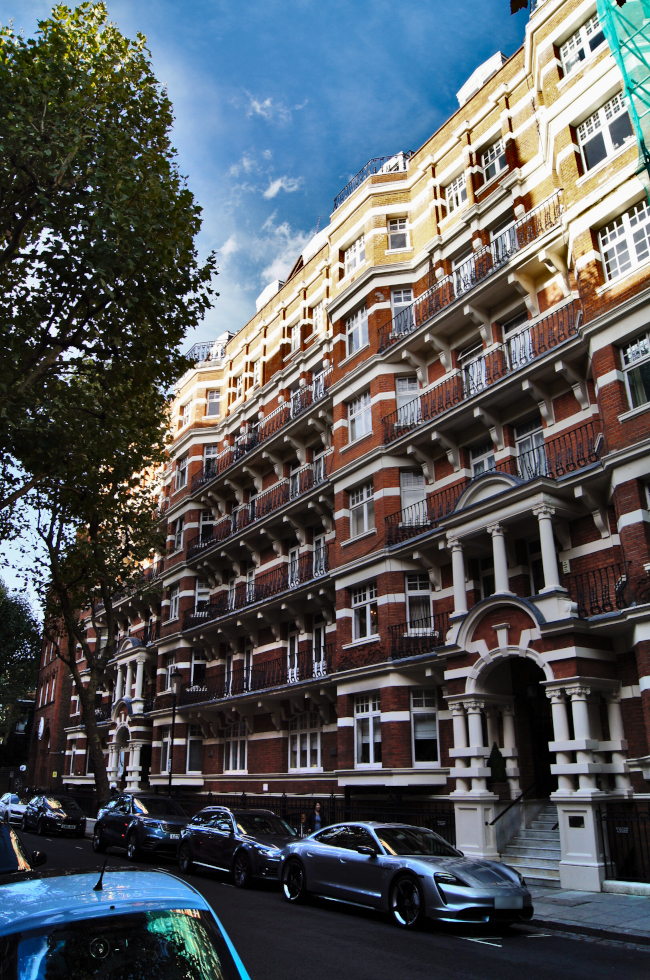 The Sultan's father-in-law, Sayyed Abdulla Bin Hamed Bin Ahmed al-Busaidi, owns a luxury flat in a prime location next to Hyde Park.
It is understood he has only visited the flat at Falmouth House – worth an estimated £2.3m – once in the last two years and it is currently sitting empty.
Al-Busaidi was a deputy interior minister and former governor of the disputed Musandam peninsula.
'Shocking to discover'
Yousuf al-Shehhi, an activist from Musandam, told Declassified that as governor al-Busaidi expelled villagers to build a military base and destroyed historical monuments.
Al-Shehhi commented: "It's shocking to discover that while Oman's elite have demolished homes in Musandam, they've bought luxury flats for themselves in London."
The ex-governor is from the same powerful family as Oman's foreign minister Sayyid Badr al-Busaidi, whose wife has lived lavishly in London.
A court case heard that Nora al-Daher, a gambling addict, lost £7m at the Ritz casino, including a £2m wipeout on a single night. The family then lost a further $5m gambling in Las Vegas.
She had told the Ritz: "I'm the best punter in London", but later tried to sue the hotel, saying staff should have stopped her placing the bets. Gambling is illegal in Oman.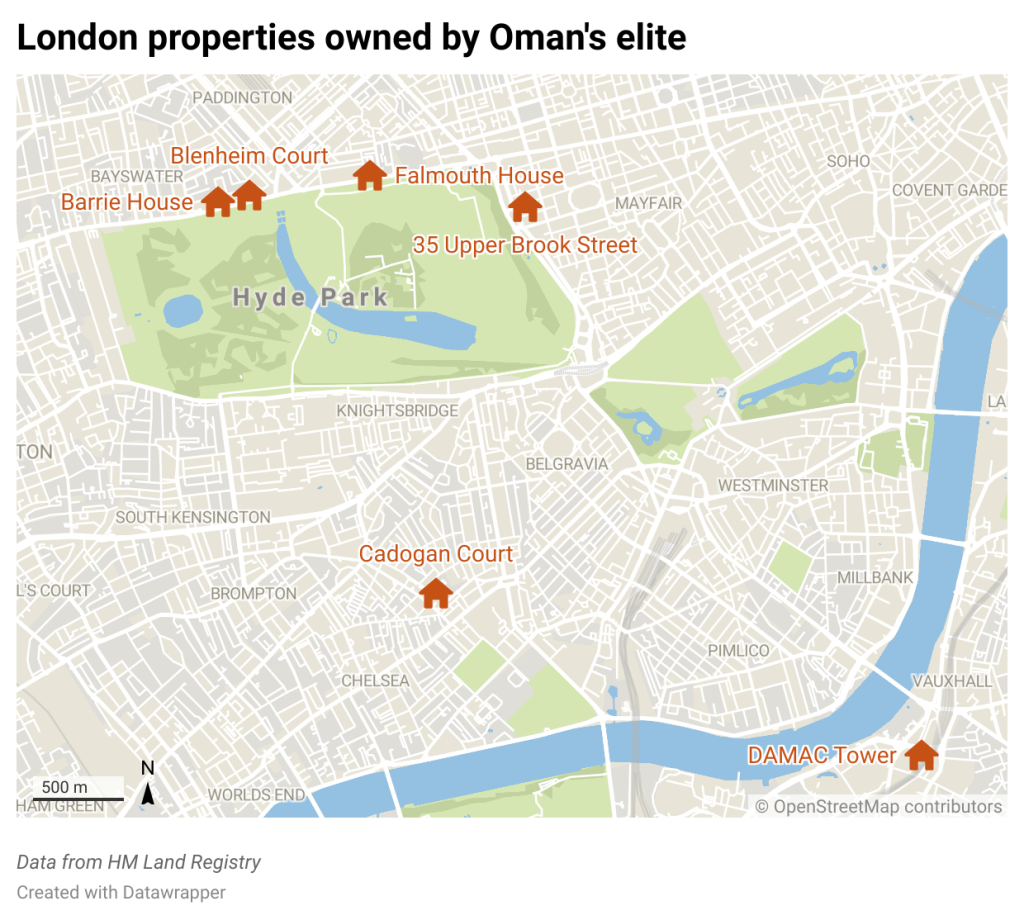 Shell companies
Further along the same road from Falmouth House is a flat and parking space at Blenheim Court that was bought for £3.2m in 2009.
The property, which is opposite Hyde Park, is owned by Measurement Trading LLC, a company registered to the Omani embassy in London.
While diplomatic missions acquire residential properties for use by their ambassadors and staff, Declassified understands this flat is mostly vacant and is only used for around one month each year.
The ambassador's actual residence appears to be in a flat in Kensington, owned by the same company.
Opposite Blenheim Court is Barrie House, an upmarket block of flats. One apartment is owned by Maqbool Ali Sultan via Great Bear Limited, a company registered in the British Virgin Islands, according to Land Registry records.
Maqbool was chairman of Oman Oil and served as minister of commerce and industry for 20 years until he was dismissed during the Arab Spring.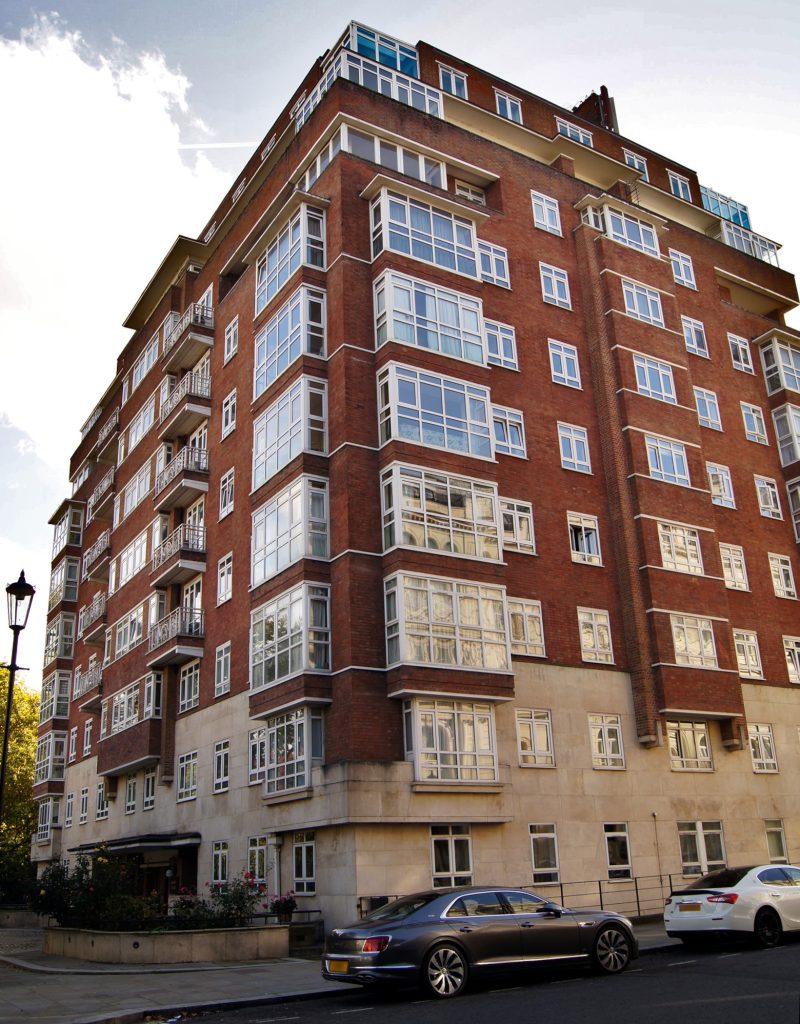 Mohammed al-Fazari, an exiled Omani journalist and editor of Muwatin, told Declassified that Maqbool "was a minister close to the previous Sultan, Qaboos bin Said, and one of the most high profile figures to be sacked after anti-corruption protests in 2011."
A US Embassy cable on "oligarchs" in Oman listed Maqbool among them and said his family business had managed the country's "first major infrastructure projects" after Sultan Qaboos came to power.
The UK Land Registry shows Maqbool has also purchased a plot in Damac Tower, a "deluxe skyscraper" in Vauxhall with "interiors designed by Versace". Prices range from £712,000 for a studio flat to £13m for the five-bedroom penthouse.
Maqbool told Declassified he completely rejects any suggestion of illegal or improper behaviour. He said: "My family has been involved in business for many years (more than 150 years) and we have always enjoyed visiting and spending time in the UK and it is correct that we own a number of properties."
Lavish lifestyles
Another elite Omani family splashing the cash in Britain are the descendents of Qais al-Zawawi.
He was the right hand man of Qaboos until he died in a car crash in 1995. Qaboos and a British adviser were also in the vehicle but survived, in what some suspect was an assassination attempt on the Sultan.
Al-Zawawi's son, Talal, inherited a fortune worth £300m from his father. He purchased a £3m house in Fulham in 2015 and hired nannies, a governess, a housekeeper, drivers and a bodyguard.
He sent his children to private school in England and ensured they learnt to play polo. Their birthday parties regularly cost tens of thousands of pounds, and a party for his wife cost around £400,000.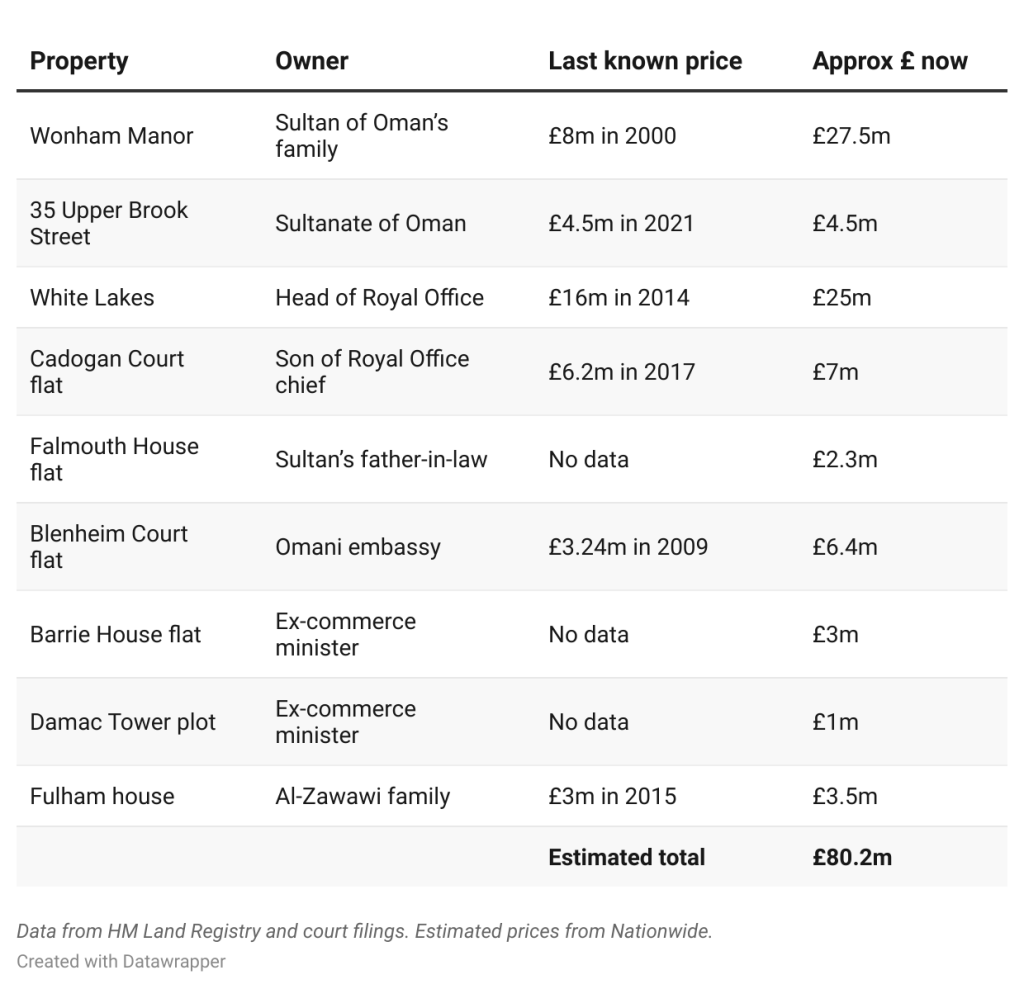 Personal protection squad
Meanwhile, the Sultan's personal protection squad, the Royal Guard of Oman, owns the leasehold for eight flats on Admiral Walk, in a riverside development in Maida Vale.
Land registry records from the mid-1990s say all six flats in Gate Lodge and two from Barnard Lodge are part of the military unit's "pension fund", which may be a legitimate investment.
UK diplomats have, however, previously noted in secret telegrams that the "extravagance" shown by Sultan Qaboos towards the Royal Guard was a "cause for concern".
The unit, which guards the Sultan's palaces and has its own fleet of armoured vehicles, "amasses power quickly, apparently untroubled by financial constraints".
Oman's embassy in London did not respond to requests for comment by email and telephone.
Read Part 1 of our investigation into Oman's property empire here.
---
---